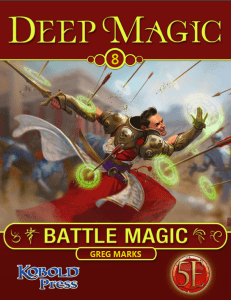 Shape the Battle to your Will!
You combine a talent for magic with a study of the art of war. As a battle mage, you know that fire and lightning can decimate an enemy's forces; but a well-placed defense, the quick movement of allies, and a curse that crushes the enemy's will to fight can be even more devastating. Battle magic is not just about killing your enemy: your true power is in controlling the flow of combat.
Deep Magic: Battle Magic brings the secrets of battle magic into your 5th Edition campaign, featuring:
8 new feats, including Battlecaster, Eldritch Lifesaver, Elemental Trapper, and Merciful Caster
25 new spells, including hobble mount, instant fortification, outflanking boon, and thunderous wave
The wind is rising, and the enemy approaches. They've come ready for battle; but what they don't know is that you are the master of the battlefield…
Get Deep Magic: Battle Magic for 5th edition at the Kobold Store today!