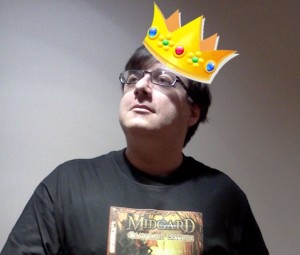 Thursday, February 28 is Kobold overlord Wolfgang Baur's birthday! Unlike the ancient red dragons whom he now counts as contemporaries, he's going to celebrate by sharing his hoard with you.
For one day only, you'll get remarkable savings at the Kobold Store:
Free Shipping within the continental U.S. only on orders of $50 or more with code USONLYFREESHIP
40% off all PDFs using code BIRTHD4YS4LE
These codes WILL NOT WORK until the sale starts on February 28, and it lasts for 24 hours only — so be sure and set a reminder! Or keep an eye on the Kobold blog, Twitter or Facebook, where we will most definitely be making a ruckus about the sale.
Huzzah!