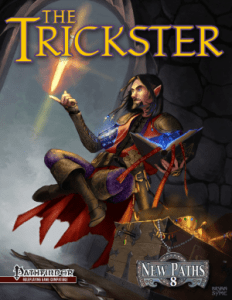 Most tricksters are two steps ahead of the competition.
A few know how to win before the race even begins!
The trickster is a new Pathfinder Roleplaying Game compatible class which combines arcane magic with roguish skills. Use your special Forte ability to perform incredible acrobatics, summon a magical familiar to act as an accomplice, beguile enemies, or steal spells as they're being cast! Outwit your foes and outrun your enemies.
New Paths 8: The Trickster gives you everything you need to play a trickster whose understanding of the arcane is matched only by his charming and debonair style.
Designer Marc Radle has provided a daring and risk-taking new base class including:
4 new Fortes such as Arcane Accomplice, Beguiling, and Spell Pilfering
8 new base class abilities such as Sneakspell and Ranged Legerdemain
a full 20-level class that knows when to walk away, and when to run!
Whether you use these powers for good, for seduction, or for power and wealth is entirely up to you–but who says you have to choose just one? Get The Trickster from the Kobold store, DriveThru RPG, or Paizo today to wield great arcane might and have the satisfaction of always being ahead of the pack!