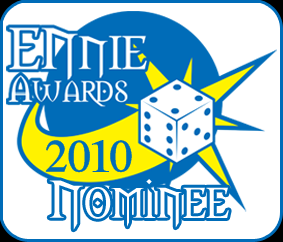 This very site — KoboldQuarterly.com — and the Open Design Podcast have been nominated for ENnie awards in the Best Blog and Best Podcast categories, and Open Design has been nominated for Fan Favorite publisher.
We're honored that the judges choose to recognize KQ and the Open Design work of the last year, and we're thrilled at the podcast nod as well. Please vote for us in the ENnie balloting; the polls close this Sunday, so vote today!
And thank you for your support.