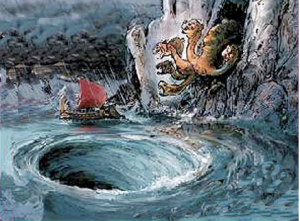 As of today there are just five days left to join Journeys to the West as a patron before prices go up. To mark this milestone, here are five typical dangers that mariners face in fantasy fiction and roleplaying games.
1. Life vests not yet invented in your world.
2. For 200 years after life vests are invented, they will come only in human sizes. Demi-humans on sinking ships watch bitterly as humans bob cheerfully on the waves.
3. Island paradise is actually the forested back of a giant marine creature that will submerge ten minutes after you step onto it. Also, the fresh springwater is poison and the trees are homicidal plant-men. The island maidens explode in fireballs when you say hello.
4. Huge rocks inexplicably crash together, smashing ships between them. What the hell, rocks?
5. Zeus releases the Kraken.
Join Journeys to the West today!