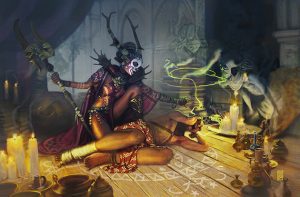 Like many Kobold Press projects, the Southlands Kickstarter offers great gaming and great adventure at a good price. But if you're looking to throw a few extra platinum pieces our way, we will try to make it worth your while. Two of the higher-pledge rewards are the Special Editions and the private forums for design shop talk. Here's what those are about, for book geeks and for game design geeks in particular.
Southlands Special Editions
For the major releases from Kobold Press, we often create a limited run of leatherette, foil-stamped books. These are heavier and more durable versions of the book, with endpapers, bound-in ribbon bookmarks, and special treatment of the cover and spine. We're offering this special edition again for Southlands, and if you love well-made books, you should take a look at some of the images of the Deep Magic leatherette special edition.
Every time we do a special edition, of course, we get a little better at it. This time we have some ideas about how to do more complex foil stamps, and possibly also something different with endpapers.
There's also a genuine leather edition, which in the past has been hand-sewn pages, gold foil-stamped, and bound in a way that is really a craftsman's binding. We are offering that edition again for collectors and rare book lovers, and it will also feature a few of our newest techniques.
The Red Portal Forum
It's long been a tradition of Kobold Press to open up some of the design process to its patrons and backers, by brainstorming, by submitting critiques and playtests, and even by submitting materials to be published in a project. For Southlands, we're taking backer submissions for the Bestiary chapter, but we're also opening up a special forum by invitation for the backers at the Red Portal Wizard tier and above.
Because we'v hit the $49,000 stretch goal, the invitations will go out, and further invites will go out as we continue to meet our goals. The brainstorms, critiques, and commentary from these forums are both great fun for budding RPG designers and a great way to keep our designers on track with their work.
Best of all, even if you pledge for the basic PDF version of Southlands or pledge at a high tier and never even visit the forums, the forums make the core Southlands book better for everyone. More review, commentary, and picking the best ideas to develop means that the Red Portal Forum is going to be part of what gives the Southlands its special magic. I look forward to inviting some of you into that forum very soon.