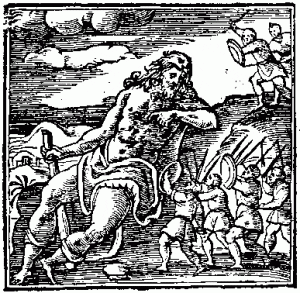 Sometimes hacking and blasting a monster to pieces is unavoidable. If you have too much of this sort of thing, though, players can get caught in a rut; every challenge becomes a combat and they miss out on the fun of…not murdering things for loot. Kill him or help him, today's Prepared! scene brings you face to face with…
The Unhappy Giant
The party is traveling along a path over hills or up a mountain. As the adventurers wind their way upward, they come to a clearing dotted with a few stunted trees and large boulders. Sitting on one of the boulders with his back turned to the party is a sobbing hill giant. A large coil of rope is sitting on the ground beside him. The adventurers may react to this sight in many ways. Consult the following important information to guide the party through the consequences of their actions:
Kork the hill giant does not attack immediately and waits to see what the party does.
Kork will continue to weep even while eyeing the party warily.
Any direct aggression from the party initiates combat with the giant.
Any attempts made to communicate with the giant initiates a Charisma ability or Charisma-based skill roll (easy difficulty). Failure initiates combat. Success initiates the Chatting with Kork option listed below.
Failed attempts to sneak past him initiates combat with the giant.
Chatting with Kork
Kork speaks rough Common. He is upset enough to talk about his feelings instead of attacking. The giant tries to remain at a distance from the party while chatting, but becomes less and less suspicious as conversation continues. Once interaction with Kork has begun, the following information is available provided the party remains peaceful:
Kork is set to marry the chieftain's daughter Greta. (She more pretty dan' smashed-up-goat rug.)
Kork has dropped his engagement offering down the side of the mountain. (Many happy orc heads tied together fall down der'.)
The offering is caught on a ledge 40 ft. below the clearing. (My arms not long nuff'.)
He has a rope but cannot retrieve the offering on his own. (Kork ties rope to tree, tree breaks—like Kork heart…)
The party can help Kork by agreeing to be lowered down to the ledge. Kork will not consider other options. Refusing to do things Kork's way initiates combat with the giant. Any character who agrees to be on the other end of Kork's rope must make a Dexterity roll (moderate difficulty) to avoid taking minor damage from the experience. Successfully returning the offering to Kork results in the following:
Party receives full XP value as though they had defeated Kork in combat.
Kork is extremely grateful. (You is now friend of Kork.)
Kork agrees to help the party travel up the road; he could aid them in a future combat or provide assistance clearing a future obstacle.
You can get Prepared! now at the Kobold Store and Amazon.