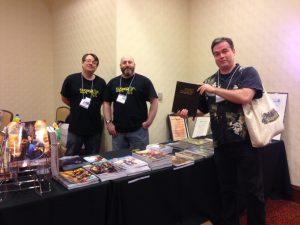 The Kobold crew arrived at PaizoCon in good cheer, set up the banners and booth, and said "OMG, Frank Mentzer is the Guest of Honor! We should have brought our D&D Red Box for him to sign!"
The whole show started out strong and just kept getting better. Volunteers ran a wide variety of Kobold Press adventures, from visits to the Margreve forest to strange and distant places and a dangerous visit to the Goblins in the Brewery. Kobold staffers and freelancers held seminars on hmebrewing, becoming a freelancer, and humor and gravitas in gaming. Most of these were recorded and will be available through the Know Direction podcast later this month.
And of course we made new friends! Thanks to everyone who played Pathfinder and 13th Age with us, everyone who came to the panels or stopped by the booth and said hello—and thanks to our wonderful, friendly hosts, the blue-shirts of the Paizo crew, who made it a smooth and fun experience for young and old. We look forward to doing it again next year around Memorial Day at the new hotel.