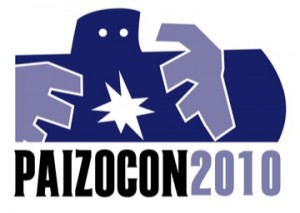 PaizoCon 2010 is right around the corner. We're going. Are you?
Here's our seminar schedule:
Breaking Into Game Design
Evergreen Room, Saturday 05:00 PM – 06:00 PM
Speakers: Wolfgang Baur, Brandon Hodge, et al.
Learn about the roads into the games field for aspiring game designers: organized play, blogs, small press, magazines, and patronage projects are all doors into the field, each with advantages and disadvantages for a designer at the start of their career…
Veteran Baur and newcomer Hodge talk about the plusses and minuses, as well as the practical requirements to present your work to best advantage. Learn the basics, or sharpen your edge enough to take it up a level.
What's Coming from Kobold Quarterly and Open Design
Evergreen Room, Sunday 10:00 AM – 11:00 AM
Speakers: Wolfgang Baur, Brandon Hodge, and Scott Gable
With Sunken Empires, Imperial Gazetteer, and Tales of the Old Margreve, Open Design has embraced the Pathfinder Roleplaying game and offered high-quality sourcebooks and adventures. You can help shape the next one of these as a designer and patron, or offer up the next "Spell-Less Ranger" or "Arquebusier" base class for Kobold Quarterly.
Come find out what Open Design is launching at the convention and how you can publish your work with the leading third-party publisher for Pathfinder RPG.
How to Launch a Publishing Empire
Evergreen Room, Sunday 12:00 PM – 01:00 PM
Speakers: Wolfgang Baur, Scott Gable, et al
With PDF, print-on-demand, and the rise of collaboration across the net through crowdsourcing and global production, it's possible to launch a small publishing effort without losing a fortune in start-up costs. It's also possible to reach a global audience, and find an audience more readily than ever before.
Learn how Open Design and Zombie Sky Press were launched (and benefit from their hard-won experience!), and figure out whether you should work with an existing publisher or go it alone. Lots of the Q&A, and the answers may surprise you.