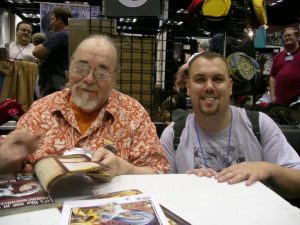 And now, we are pleased to announce the Grand Prize Winner of the "My First Gen Con" Essay Contest. The competition was intense, but one essay stood out because… well, just read it.
When Zachary Houghton arrives at booth #2439, he will be hailed as a conqueror and given lavish gifts: $100 in store credit and $50 spending money for the Con. Congratulations, Zachary!
Be Careful To Whom You Speak
Gen Con always surprises. It can teach lessons, too.
My first year of attending Gen Con Indy was one of extreme confidence and preparation. I had been wanting to go to this Mother of All Gaming Events forever, and boy, had I done my homework. I knew every booth, product, and game line of note.
While taking a caffeine-hazed break in the food court sometime later in Day 2, a tired-looking older man in a Hawaiian shirt sat down heavily next to me. He somewhat grumpily asked about my day thus far, and I, secure in the brazen ignorance of youth, took the opportunity to opine to him about the state of gaming, Dungeons & Dragons, and d20 in general.
"Of course," I laughed, "we've come a far ways from the Original Dungeons & Dragons—and that sort of design."
He fixed me with a stare that would freeze the tropics, his Hawaiian shirt seeming a cruel irony at that moment.
It was then that I noticed his convention badge, which had not been visible when he first sat down, read "Dave Arneson."  You know, the co-creator of D&D?
Let the record state that after a profuse, horrified, stammering apology from me, Mr. Arneson was far kinder than a pissant kid hopped up on his own arrogant gaming opinion deserved. However gruff he could be, I appreciated that very much. When I realized a couple years later just how great so much of the early part of our hobby was, I became even more grateful to the man. Not a year goes by that I don't remember that moment, and err on the side of keeping my own counsel when with strangers.  Thanks, Dave—we miss you!
Note: The photo Zachary sent is not of him with Dave Arneson, but some other guy who doubtless would have loved to hear how much better today's games are than OD&D.