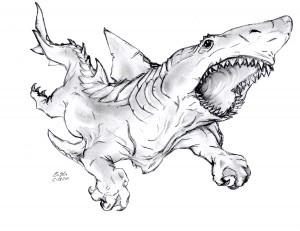 The ship's crew members turn to the railing as it explodes into splinters. Within a wave of water and foam, a massive sharklike creature lands on the deck and bites off a shocked sailor's arm. It laughs cruelly as it claws its way forward on four scaly feet, with its long tail lashing behind. Its movements shower the area in blood.
Fang Drake CR 4
XP 1,200
CE Large dragon (aquatic, geographic, esoteric)
Init +2; Senses darkvision 60 ft., low-light vision, keen scent; Perception +12
DEFENSE
AC 17, touch 12, flat-footed 14 (+2 Dex, +1 dodge, +5 natural, –1 size)
hp 52 (5d12+20)
Fort +8, Ref +6, Will +6
DR 5/bludgeoning Immune magic, paralysis, and sleep; dragon traits
Resist cold 5
Weaknesses vulnerability to fire (+50%)
OFFENSE
Speed 30 ft., swim 80 ft.
Melee 2 claws +8 (1d6+4), bite +8 (3d8+4, plus bleed (2) and grab), tail slap +3 (1d8+2)
Space 10 ft.; Reach 10 ft.
Special Attacks breath weapon (40 ft. line, 5d6 sonic, Ref DC 15 half, useable every 1d4 rounds), inhalation, maiming bite
STATISTICS
Str 19, Dex 14, Con 18, Int 13, Wis 14, Cha 13
Base Atk +5, CMB +10, CMD +23 (+27 vs. trip)
Feats Alertness, Dodge, Power Attack, Improved Feint (b)
Skills Acrobatics +4 (+8 Jump), Bluff +11, Knowledge (nature) +5, Intimidate +9, Perception +12, Sense Motive +12, Stealth +6, Survival +7, Swim +8; Racial Modifiers +4 Acrobatics (when jumping), +8 Swim
Languages Aquan, Common, Draconic
SQ Amphibious
ECOLOGY
Environment any aquatic
Organization solitary or shiver (2–5)
Treasure Standard
SPECIAL ABILITIES
Inhalation (Su) As a move action, in a 20 ft. cone on land and a 40 ft. cone underwater, a fang drake can drag creatures toward it with a mighty breath. Creatures within the cone are pulled adjacent to the drake and are stunned for 1 round. Creatures may attempt either a DC 15 Fortitude check or DC 25 Swim check to resist; success means the creature is drawn only 5 ft. toward the fang drake and is staggered for 1 round.
Maiming Bite (Ex) Instead of dealing its normal bite damage if it maintains a grapple with its bite, a fang drake may make a new bite attack at a creature it is grappling with its mouth. It threatens a critical with this attack on a roll of 19–20 and gains a +4 bonus to confirm a critical. If it confirms the critical hit, the creature takes the critical damage as normal and it loses one limb (drake's choice). If it misses with this attack, or hits but doesn't make a critical hit, the target is no longer grappled. The exact effects of limb loss are up to the GM, but should be severe. For suggestions, check out the loss of a body part rules here.
Razor Hide (Ex) A fang drake's fine scales are razor sharp. Anything that begins its turn grappling one takes 2 slashing damage.
Bloody Seas (Su) As a standard action, when completely submerged in water, a fang drake can transport itself to another body of water within 1,000 feet that is large enough to contain its body, as if using the dimension door spell.
Water Leap (Ex) A fang drake treats a jump out of water as a long jump, provided it moves at least 10 ft. before making the Acrobatics check.
The fang drake or drake shark is a personification of the endless hunger within the world's seas. These vicious dragonkin delight in feasting on anything they can fit in their huge maws, often playing with their food before eating it. Canny fighters, fang drakes love to fake out opponents and do so at every opportunity. Secondary stomachs hold the hoards of these beasts since they are always on the move and contain an understandably larger number of rings, magic boots, and similar adornments than gold coins or other trinkets. Shivers of these drakes have been known to escort a ship across an ocean only to crack its hull open with their screeching breath and chew through the crew just as the ship's destination comes into view. Fang drakes and dolphins are mortal enemies, and both go out of their way to slay the other. Fang drakes are both geographic and esoteric drakes.