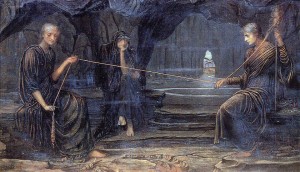 As soon as you lay eyes on this ancient crone, images of the deaths of all those you've loved and lost flood your mind. In these visions, you see the crone's withered hand repeatedly lash out with an elongated pair of terrible shears to sever the gleaming, silver threads rising from your loved ones' heads. The crone cackles in these visions as your loved ones crumple into piles of thread.
In real life too, she cackles as she approaches, pulling an elongated pair of terrible shears from behind her back…
Sisters fight. But when those sisters control the threads of life, well, things get . . . messy.
The Three Fates are immortal sisters. The maiden Clothos spins each mortal's thread of life. The middle-aged Lachesis weaves these threads into the Great Tapestry of Fate. The crone Atropos cuts each thread when a mortal's contribution ends.
In a sisterly squabble over whom mother loved most, Lachesis pitched Atropos headlong from the Outer Sphere, declaring that big sister's "fate" would play out in the mortal world. When Atropos crashed to the Material Plane, her body smashed into thousands of pieces. Being immortal, however, the pieces didn't die. Instead, each fragment became a hideous, hag-like creature possessing mere slivers of Atropos's original powers. But each knows how to forge shears that sever the threads of life. Hatred verging on madness drives each to try to unravel Lachesis's Great Tapestry by hunting down and cutting the life thread of mortals with potential to affect the world's fate: everyone Lachesis might deem central to her precious weave.
Atropos 13 (CR 20)
XP 307,200
CE Small outsider
Init +13; Senses arcane sight, darkvision 60 ft., true seeing; Perception +33
Aura visions of death
DEFENSE
AC 36, touch 26, flat-footed 27 (+6 deflection, +9 Dex, +10 natural, +1 size)
hp 372 (24d10+240); regeneration 10 (good spells, poison)
Fort +18, Ref +23, Will +24
DR 15/epic; Immune cold, electricity, fear, sonic; Resist acid 10, fire 10; SR 31
Weaknesses poison vulnerability
OFFENSE
Speed 30 ft., fly 60 ft. (perfect)
Melee +38/+33/+28/+23/+18/+13 keen unholy vorpal sheers +5 (1d3+13/15-20)
Special Attacks channel negative energy, mirror attack, sever life thread
Spell-Like Abilities (CL 20th)
Constant—arcane sight, detect thoughts (DC 23), discern lies (DC 25), mind blank, true seeing
At will—keen edge, unholy blight (DC 25)
3/day—circle of death (DC 27), discern location (DC 25), ethereal jaunt, greater scrying (DC 28), greater teleport, quickened dimension door, quickened greater dispel magic
1/day—blasphemy (DC 28), contact other plane, foresight
1/week—mage's disjunction (DC 30), moment of prescience
STATISTICS
Str 27, Dex 28, Con 30, Int 34, Wis 30, Cha 32
Base Atk +24; CMB +31; CMD 50
Feats Blind Fight, Channel Smite, Command Undead, Craft Magic Arms and Armor, Elemental Channel, Extra Channel, Flyby Attack, Improved Critical, Improved Initiative, Master Craftsman, Quicken Spell-Like Ability (dimension door), Quicken Spell-Like Ability (greater dispel magic)
Skills Bluff + 30, Craft (weapons) +33, Craft (weaving) +31, Diplomacy +30, Fly +36, Intimidate +30, Knowledge (all categories except history and local) +35, Knowledge (history) +40, Knowledge (local) +40, Perception +33, Perform (storytelling) +29, Sense Motive +38, Slight of Hand +28, Spellcraft +35, Stealth +30; Racial Modifiers +4 Knowledge (all), Perception +4, Sense Motive +4, Spellcraft +4
Languages Abyssal, Aquan, Common, Ignan, Infernal; telepathy (100 ft.)
ECOLOGY
Environment any populated area
Organization solitary
Treasure personal gear (keen unholy vorpal sheers +5)
SPECIAL ABILITIES
Channel Negative Energy (Su) Atropos 13 channels negative energy like a 20th-level cleric (16/day, DC 31, 10d6 damage).
Mirror Attack (Su) Anyone who inflicts hp damage on Atropos 13 must make a DC 33 Fortitude save or suffer identical damage. The save DC is Charisma-based.
Poison Vulnerability (Ex) Atropos 13 suffers double the ability or hp damage that any poison usually inflicts.
Sever Life Thread (Su) As a standard action every 1d4 rounds, Atropos 13 can make a +39 melee attack with her shears to cut a victim's life thread. Any victim hit must make a DC 33 Fort save or die, its body unraveling into a pile of thread. Only a miracle or wish can restore the victim's life. This is a necromantic death effect. The save DC is Charisma-based.
Visions of Death (Su) Atropos 13 radiates an aura causing all living creatures within 60 ft. to see visions of death flash continuously through their minds. These visions depict deceased friends' and loved ones' last living moments, their terror, agony, or despair amplified as Atropos 13 mocks them, cackles, and cuts their threads. Victims who fail a DC 33 Will save become panicked until they leave the aura, plus 1d6 rounds thereafter. Those who save successfully must succeed on a second DC 33 Will save or become dazed until they leave the aura, plus 1d6 rounds thereafter. This is a mind-affecting fear effect. The save DC is Charisma-based.
(This post is Product Identity.)
______
Who is Lachesis, the author of this terrifying monster, you ask? Well, this amazing KQ fan is only 11 years old (hence, the alias)! It's great that she sent her monster to us. It's incredible that she took on an epic one. And, on top of all that, it's simply an awesome monster!
Well done, Lachesis! And let me be the first to say, we can't wait to see more from your pen.