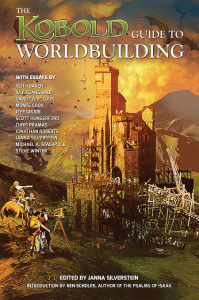 The Kobold Guide to Worldbuilding: Kindle Edition brings to your electronical reading-device our new collection of thought-provoking and informative essays by Wolfgang Baur, Keith Baker, Monte Cook, David "Zeb" Cook, Jeff Grubb, Scott Hungerford, Chris Pramas, Jonathan Roberts, Michael A. Stackpole and Steve Winter.
Activate your futuristic book-machine and learn the secrets of making a high-magic world, designing mystery cults, creating a believable city-state,  writing a world bible and more!
Have you sworn eternal vengeance against your hated enemies, the trees? Get The Kobold Guide to Worldbuilding in print at the Kobold Store.