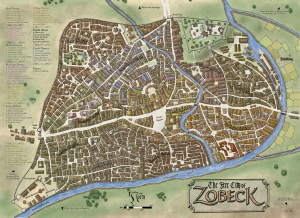 For years, the conversations have gone like this:
"Wolfgang, where's the map of Zobeck?"
"Well, there are maps in the sourcebooks, and in certain issues of Kobold Quarterly…"
"No, where's THE map?"
"Oh, you mean the one big map? A detailed, full-color map of the Free City of Zobeck, destination of caravans from a dozen lands, from the deep dwarven halls of the Ironcrags to the black forests of vampire-haunted Morgau and Doresh? The city of adventure whose streets and alleyways echo with the endless ticking of clockwork wonders, and whose shadows breed endless plots? You want THAT map?"
Yes, THAT map. And it's finally available in the Kobold Store…
Drawn by ENnie award-winning cartographer Sean Macdonald, this is the most detailed and complete map of Zobeck to date. It's high-quality so you can print it out as a big 20-by-15-inch tabletop map, or view it on a laptop or iPad, so you can zoom in on the details.
Combine this map with the Zobeck Gazetteer (print or PDF) and Tales of Zobeck to take your players on adventures in a world drawn from the mythos and legends of Eastern Europe. As Wolfgang says in his introduction to the Gazetteer, It's time to reclaim the dark legends of the East, of a trade city on a large river, of the dark forests and the wild creatures that sweep across the plains like Mongol hordes, of the learned men of the Academy who build monsters and powerful clocks.

Zobeck is all yours. Go exploring!