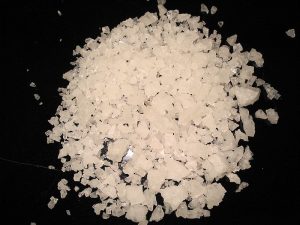 This crystalline automaton is crudely sculpted, with only the vaguest humanoid features. As it shuffles forward on wide, stump-like feet, thousands of tiny salt crystals fall from its body, creating a glittering cloud.
A salt golem has a crudely formed humanoid body made of crystalline salts. It wears no clothing or armor and carries no weapons or other possessions. It cannot speak; the only sound it makes is the susurrus of sliding sand as it moves. A salt golem stands about 8 ft. tall and weighs around 1,000 lb…
Salt Golem (CR 11)
N Large construct
Init -1; Senses low-light vision, darkvision 60 ft.; Perception +0
DEFENSE
AC 24, touch 8, flat-footed 24 (-1 Dex, +16 natural, -1 size)
hp 96 (12d10+30)
Fort +4, Ref +3, Will +4
Defensive Abilities blinding salt spray; DR 10/adamantine; Immune construct traits, magic
OFFENSE
Spd 20 ft.
Melee 2 slams +21 (2d10+10 plus fatigue)
Space 10 ft.; Reach 10 ft.
Special Attacks rusting grasp
TACTICS
During Combat A salt golem is incapable of strategy or tactics. It mindlessly fights until it destroys its opponents or until ordered to stop by its creator.
Morale A salt golem fights until destroyed.
STATISTICS
Str 30, Dex 9, Con —, Int —, Wis 11, Cha 1
Base Atk +12; CMB +23; CMD 32
Feats —
Skills —
Languages none
ECOLOGY
Environment any
Organization solitary or gang (2-4)
Treasure none
SPECIAL ABILITIES
Blinding Salt Spray (Ex) Any time a salt golem is hit in combat, thousands of tiny salt crystals erupt from its body. All creatures within 5 ft. of the golem are blinded for 1d6 rounds (Reflex DC 16 negates; Constitution-based).
Fatigue (Su) Creatures hit by the golem's attacks are fatigued (Fortitude DC 16 negates; fatigued creatures become exhausted; Constitution-based).
Immune to Magic (Ex) A salt golem is immune to any spell or spell-like ability that allows SR. In addition, certain spells and effects function differently against the creature, as noted below.
A control water spell slows the golem (as the slow spell) for 2d6 rounds and deals 1d12 damage.
A soften earth and stone does not actually change the golem's structure but negates its DR and immunity to magic for 1 full round. The golem gets no saving throw against any of these effects.
Any magical attack against a salt golem that deals acid damage heals 1 damage for every 3 damage it would otherwise deal. If the amount of healing would cause the golem to exceed its full normal hp, it gains any excess as temporary hp. A salt golem gets no saving throw against magical attacks that deal acid damage.
Rusting Grasp (Su) A salt golem can make a melee touch attack with a rusting grasp effect, as the spell, 3/day.
Construction
A salt golem's body is formed from a composite of at least 1,000 lb. of rare salts and minerals worth 2,500 gp.
Salt Golem
CL 12th; Price 52,500 gp
CONSTRUCTION
Requirements geas/quest, horrid wilting, limited wish, rusting grasp, creator must be CL 12th; Skill Craft (alchemy) or Craft (sculpting) DC 17; Cost 27,500 gp
(Pathfinder Roleplaying Game Compatible)
___
You can find another of Rob McCreary's monster variations in Monster Chronicles: The Nightmare.