Following on Courts of the Shadow Fey, its second adventure compatible with the 4th Edition Dungeons & Dragons Roleplaying Game, Open Design is announcing a new D&D project launching immediately: the Lost City project. Leading the project is former Wizards of the Coast designer Logan Bonner, lead designer on Arcane Power and author of the fan-favorite adventures The Slaying Stone and P1: King of the Trollhaunt Warrens.
The project will follow Open Design's long-standing patronage model, in which you participate in a product's creation from the earliest planning stages through publication. With Bonner's guidance, patrons of the Lost City project will be invited to write three major sections of the anthology, and will decide details about the city such as its locale, history, and the adversaries players will face.
From Outline to Print Publication
Patrons of The Lost City adventure will collaborate with Bonner to create a Paragon-level sandbox adventure with a broad range of player options. The Lost City will feature ancient threats and secrets, and multiple factions for players to ally themselves with – or against.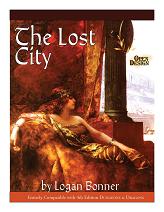 The Lost City project will begin with a choice of three settings for the ruins:
• Kadralhu, City Beneath the Sands, a place of shifting dunes and layers of lost civilizations.
• Beldestan, the Pillars of the Sky, offers a single step from a dusty shrine to the highest vault of the heavens, the resting place of an ancient godling imprisoned long ago.
• Jotunheim, the Flying City, a flying city of the cloud giants now fallen into neglect, but capable of appearing anywhere in a campaign world with a cargo of adventure – and colossal dangers.
Patrons will choose one of these as their foundation, and will build on it through a process of pitching, critique, playtest, and refinement toward publication. Patrons will also create new monsters, treasures, and hazards under Logan Bonner's direction and development.
The resulting sandbox-style adventure will be set in Wolfgang Baur's campaign world of Midgard, and optimized for easy adaptation to any setting.
Becoming a Patron
You can become a patron of the Lost City right here at the Kobold Store. You will receive a welcome email and directions to the private forums where design takes place within 48 hours.
About Logan Bonner
Logan Bonner has worked on 4th Edition Dungeons & Dragons since before its release, initially at Wizards of the Coast and now as a freelancer. His contributions to the game include the new version of the bard, divine domains, the swordmage class, and familiars. He served as lead designer on Arcane Power, and his work appears in Player's Handbook, Adventurer's Vault 2, Monster Vault, and the primary books for the Forgotten Realms and Dark Sun settings. His adventure credits include The Slaying Stone  and P1: King of the Trollhaunt Warrens.
You can follow Logan on Twitter or on his blog. You can join his design group for The Lost City here at the Kobold Store.