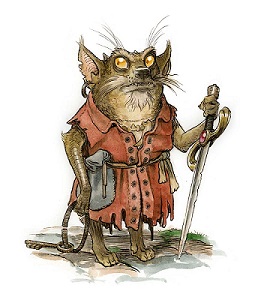 The kobold crew will be at Gen Con 2014 talking about adventures, design, and breaking into the field. Here's the seminar list: We hope to see you at one or all of them!
Tyranny of Dragons: When The Kobolds Met Tiamat
Friday at Noon, Crowne Plaza : Victoria Stn A/B
How the heck did small-but-fierce Kobold Press end up designing the flagship adventure for a new era of D&D? What's it like to partner with Wizards? Is Tiamat cool to work with? The kobolds tell all!
Storytelling in the Realms: Tyranny of Dragons and Beyond
Friday at 4:00 PM, ICC: 120
Join Chris Perkins, Ed Greenwood, Wolfgang Baur, and R.A. Salvatore to discuss what makes great stories and adventures. Learn about the origin of the Tyranny of Dragons story and get a hint of future D&D stories.
Freelancing 101: How to Break into Game Design & Editing
Saturday at 9:00 AM, Crowne Plaza : Conrail Stn
It looks easy, right? Freelancers & publishers on this panel tell you what REALLY happens & how to improve the odds of breaking into print. Advanced tips for established freelancers, too!
RPG Design 201, Making Magic Exciting
Saturday at 10:00 AM, Crowne Plaza : Conrail Stn
Blazing rays, clever illusions, and potent incantations! Discuss the black art of Pathfinder magic spell creation. We'll talk about the unwritten rules and unbreakable guidelines.
Creating Pulp Adventure
Saturday at Noon, Crowne Plaza : Conrail Stn
Lost cities? White apes? Why, of course! Freelancers and publishers discuss what makes an adventure "Pulp" and how it makes a game fun! Tips and tricks from industry veterans.
Kobolds Assemble! Meetup
Sunday at 8:00 AM, ICC east end food court toward Union Station
Break your morning fast with Kobold Press fans and designers!
Pathfinder and 13th Age Games
Of course we're running games! To find a complete listing of every game we're running this year, sign in and search for Kobold Press!
Booth 2537
And, of course, we hope you will visit us at our booth in the dealer hall. We'll be hanging out at Booth 2537 with some sasquatches and dire weasels.