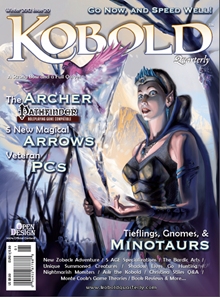 So, you've written up the perfect ghastly encounter that has caused your players to shiver in their seat. Or maybe you've statted out a roguish creature who delights in tormenting your group's adventurers. Perhaps you've fleshed out an artifact or relic in your game that you'd love to share with the world! Whatever the case, this is a reminder to you that we're accepting submissions for the Kobold Quarterly blog, as well as for the magazine! To learn more about what we're looking for, please venture over to our submissions guideline page and give them a good read.
We would love to see what sorts of creative things all of you have come up with for your games.
While we're here, we want to thank those who have already sent in submissions, plus we thank those who have commented on the blog.