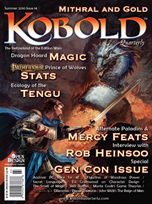 Can you believe it? Our kobold traps are still disabled from the gnome raid, which means you can just waltz into our vaults and make off with a FREE issue of Kobold Quarterly #14.
(If you don't waltz, you can tango into our vaults. The Charleston is also acceptable.)
Go to the Kobold Store, add issue #14 to your cart, and enter the coupon code KoboldWelcome at checkout to snatch a PDF copy of your own. It's our big Gen Con 2010 issue, with nearly 100 pages of articles by Ed Greenwood, Monte Cook, Skip Williams, Adam Daigle, Michael Furlanetto, John Baichtal, Jeff Tidball, Tim and Eileen Connors, John Wick and many others—plus an interview with Rob Heinsoo.
While you're there, you might also want to get a copy of the new issue, Kobold Quarterly #20. Heck, you might even want to subscribe.
Remember, the vault closes again on February 14, so act soon!