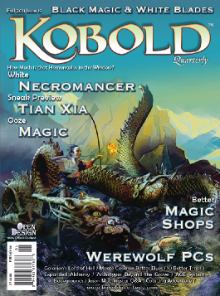 Kobold Quarterly issue #19 is out today, and this Kobold horn of plenty is overflowing with what might be our most diverse set of articles and columns ever.
Sure, maybe there's nothing new about this issue having great crunchy, fluffy articles for Pathfinder Roleplaying Game, 4th edition Dungeons & Dragons, and the AGE System RPG —including an official sneak preview of Tian Xia, Paizo's new Dragon Empire.
But in this issue we go where no kobold has gone before: the realm of indie games, where we interview Fiasco designer Jason Morningstar. We asked Jason how the interview went, and he said, "I enjoy my subscription to Kobold Quarterly and was thrilled to get my (monkey) brain picked about games and game design for this issue." This is nice of him to say, considering that at the end of the interview we challenged him to escape a deadly trap. Because we're still kobolds, right?
Kobold Quarterly #19 is available now in print and PDF with necromancers, werewolves, grave druids, arch-devils, and a new solo adventure. Here's a look at what's inside, after the jump:

A sneak preview of Tian Xia, the brand new region of Golarion by Paizo Publishing, by James Jacobs
Richard Pett presents Lau Kiritsu, arch-devil of Tian Xia
An interview with indie designer Jason Morningstar
A new good-guy necromancer class
A new stand-alone solo adventure – just bring a d20, a pencil, and some paper
2 new alchemist archetypes and 15 new discoveries
New werewolf themes
10 new character backgrounds for the Midgard campaign setting
4 unique magic shops, from the high end to the bargain bin
4 new death-themed archetypes: deathrager, grave druid, master of worms and zombie master
A guide to who's who in any royal court
Zobeck's Order of the Undying Sun
Monte Cook on how to spice up traditional fantasy races and classes with balance-free bonuses
…and more!
Pick up Kobold Quarterly #19 in print or in PDF, and we'll see you in Tian Xia!