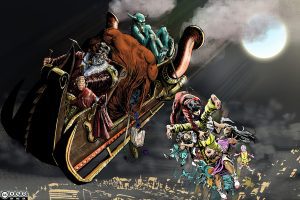 The kobold warrens will be closed from Tuesday, November 25th, through Sunday, November 30th. No signs of life will be seen: no shipments of books, shirts, patches, scraps of cloth, rusty gears or dead gnomes will travel in or out of its depths. Inquiries shouted through the keyhole about orders already placed will be answered, though possibly after some delay.
Why? Well, there's the Thankskobold holidays, of course. But also because we're readying a massive Krampus sale which will go live December 1st! You'll find savings on some older products, some favorite Pathfinder RPG items, a very short but special D&D sale item, as well as a brand new surprise 13th Age release that we've been working on in secret. Details are coming! Later!
We hope that you all enjoy much frivolity and feasting in the days to come!