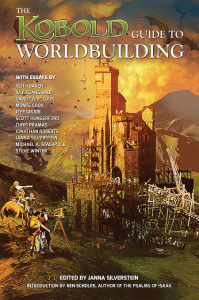 How would you like to create the next Forgotten Realms, or Glorantha? To design a world as rich, fascinating and enduring as  Narnia, Middle-Earth, Nehwon or Barsoom?
Building a world doesn't require supernatural power. The designers and authors who created those famous settings did so through imagination, careful thought and planning. The Kobold Guide to Worldbuilding brings together eleven of adventure gaming's top designers to share their insights and expertise.
Wolfgang Baur, Keith Baker, Monte Cook, David "Zeb" Cook, Jeff Grubb, Scott Hungerford, Chris Pramas, Jonathan Roberts, Michael A. Stackpole and Steve Winter reveal the secrets of designing a pantheon, creating a setting that provokes conflict, determining which historical details are necessary, and so much more. Get a deeper appreciation of how your favorite settings work, or take that creative leap and create dazzling worlds of your own.
Full table of contents after the jump:
What is Setting Design? – Wolfgang Baur
Different Kinds of Worldbuilding – Monte Cook
Worldbuilding Inside Out and Outside In – Chris Pramas
How Real is Your World? On History and Setting – Wolfgang Baur
Bringing History to Life – Keith Baker
Apocalypso: Gaming After the Fall – Jeff Grubb
Here Be Dragons: On Mapmaking – Jonathan Roberts
How to Design a City State, Tribe, or Nation – Wolfgang Baur
They Do What, Now? On Creating Societies and Cultures – Michael A. Stackpole
How to Make a High-Magic World- Keith Baker
Worlds and Technology – Wolfgang Baur
Why No Monotheism? – Steve Winter
Designing a Pantheon – Wolfgang Baur
It's a Mystery! Designing Mystery Cults – David "Zeb" Cook
How to Design a Guild – Wolfgang Baur
How to Write a World Bible – Scott Hungerford
Playing in Someone Else's Backyard – Janna Silverstein
The Limits of Design: Kitchen Sink Design – Wolfgang Baur
Get The Kobold Guide to Worldbuilding at the Kobold Store! (Or in PDF at DriveThru or at the Paizo Store.)
Our other best-selling guides to game design: