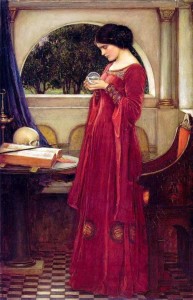 Last year around this time, blog reader Ryan Lockard submitted this spell for AD&D 2nd Edition that he wanted to share with the world at large. Let's see if we can workshop it here on the blog and see if we can also bring it into Pathfinder or any other system that you'd care to see (in the comments). Thanks go to Ryan for sharing this with us and for giving us an opportunity to play with it, and thanks in advance to any who provide commentary below!
Erratic Thaumaturgy (Wild Magic, All Schools)
Range: 0
Components: V,S
Duration: Special
Casting Time: 2
Area of Effect: The caster
Saving Throw: Special
Upon completion of this spell, the caster releases a random burst of magical energy causing one of the following effects (roll 1d10, at 5th level roll twice, rerolling any repeats):
Abjuration: The next harmful die roll to affect the caster is negated (successful attack, failed saving throw, failed ability check that would result in harm, and so on); expires after 1 turn.
Alteration: Caster sprouts large bat wings for 4 rounds; movement rate 18, Class C.
Conjuration/Summoning: One goblin is summoned (remains for 3 rounds).
Divination: Caster gains knowledge of alignments and surface thoughts of every being within 20 ft., plus knows the location of secret doors and illusionary or invisible objects and creatures (duration: instantaneous) within 20 ft.
Enchantment/Charm: Caster's weapon animates and can be commanded for 3 rounds (THAC0 19, AC 6, a successful hit negates the attack for that round).
Illusion/Phantasm: Caster blends into surroundings, –3 AC while moving, invisible while standing still (duration: 5 rounds).
Invocation/Evocation: Blast of bluish, white-hot light explodes from caster, all within 10 ft. suffer 1d10 points of damage (saving throw for 1/2).
Necromancy: Drain 2d4 hit points total from everyone within 20 ft. (hit points are drained evenly per person; saving throw to avoid; hit points over caster's maximum disappear at a rate of 1 per hour).
Wild Surge
Roll Twice, player chooses one.