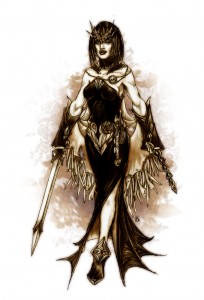 After much travail and careful reworking of the 3.5/OGL material, the Pathfinder Imperial Gazetteer is finally complete and ready to unleash on the world. Ladies and gentlemen, welcome to the deadly lands of the undead, the principalities and the realms subterranean.
The vampires and spectral knights long ago claimed the surface countries of Morgau & Doresh as their own, leaving the ghouls with their own empire deep beneath the earth.
Both worlds are fully detailed in this volume. The Imperial Gazetteer takes you deep within the palatial crypts where death fears to dread, providing Pathfinder Roleplaying Game…
A history of the undead nations above and below the earth
A giant cast of undying antagonists and allies
A new race that allows players to experience the life of the living dead
The underground capital of the Emperor of the Ghouls
Undead-themed gods and magical items
A bestiary containing more undead than you can shake a stake at
All hail the emperor and the necrophagi! All hail the Hunger God! All hail the Imperial Gazetteer!
(Open Design cannot be held responsible if your soul is eaten.)