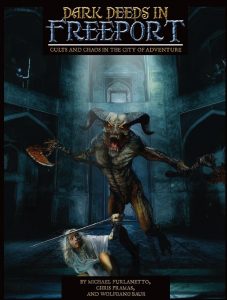 Haul anchor, patrons—we're setting sail for Green Ronin's Freeport!

You heard aright, ye scurvy dogs: two of the most infamous outlaws to sail the seas of the RPG world have signed articles and are setting out on a joint venture of danger and glory! Open Design is launching a new adventure design project for Green Ronin's pirate campaign setting Freeport: The City of Adventure. Entitled Dark Deeds in Freeport, the 72-page book will be an official Freeport product licensed from Green Ronin, compatible with Pathfinder Roleplaying Game. Patron slots for the project are available at the Kobold Store starting at $24.95 for Basic-Level Patronage…
Using the Freeport Companion: Pathfinder Roleplaying Game Edition as a resource, patrons of Dark Deeds in Freeport will work with Wolfgang Baur, Chris Pramas, and lead designer Michael Furlanetto to create an adventure that blends swashbuckling adventure with supernatural horror in the Freeport tradition.
"I'm excited to work with Chris Pramas again on an RPG project—especially one with Cthulhoid monsters and pirates," says Wolfgang. "This partnership is like the bit in Captain Blood where Errol Flynn teams up with Basil Rathbone. Except Chris and I won't duel to the death on a desert island."
"Unless the senior patrons unanimously vote otherwise," adds Mike.
When kobolds and ronins team up, who knows what will happen? Sharpen your cutlass and join the crew for Dark Deeds in Freeport now in the Kobold Store. We sail with the tide!