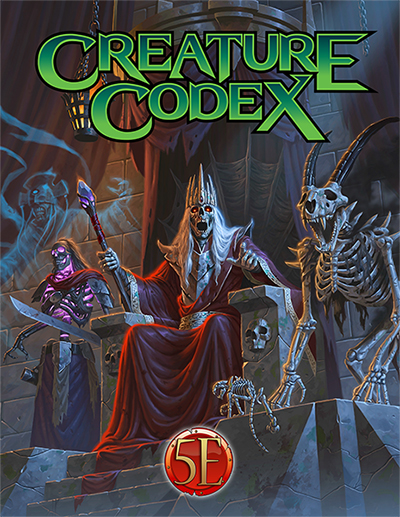 Remember when the Kobolds brought you nearly 400 brand new monsters last year with the release of the Creature Codex? Those were great times. (I wonder how many battles that book launched? How much shiny loot it gave out to victorious parties? How many characters it put into the grave?)
Well, it's just been nominated for an ENnie in the Best Monster/Adversary category!
Congrats to the authors—Wolfgang Baur, Dan Dillon, Richard Green, James Haeck, Jeremy Hochhalter, James Introcaso, Jon Sawatsky, Chris Harris— and the artists and everyone who had a hand in its creation. You did a great job!
So do think of us when you vote for the ENnies this year!
A Rampage of New 5th Edition Monsters!
DM: "A mysterious figure in a cloak approaches you in the tavern…"
PALADIN: "Aha! This must be a wizard with a map to a dungeon!"
DM: "…and he's ticking."
ROGUE: "RUN!"
Whether you need scuttling dungeon denizens, alien horrors, or sentient avatars of the World Tree, the Creature Codex has you covered! Nearly 400 new foes for your 5th Edition game—everything from acid ants and grave behemoths to void giants and zombie lords.
The 424 PAGES OF THE CREATURE CODEX INCLUDE:
A dozen new demons and five new angels
Wasteland dragons and dinosaurs
All-new golems, including the altar flame golem, doom golem, and keg golem
Elemental lords and animal lords to challenge powerful parties
Chieftains and other leaders for ratfolk, centaurs, goblins, trollkin, and more
New undead, including a heirophant lich to menace lower-level characters
…and much more! Use them in your favorite published setting, or populate the dungeons in a world of your own creation. Pick up Creature Codex and surprise your players with monsters they won't be expecting!
COMPATIBLE WITH THE 5TH EDITION OF THE WORLD'S FIRST ROLEPLAYING GAME!