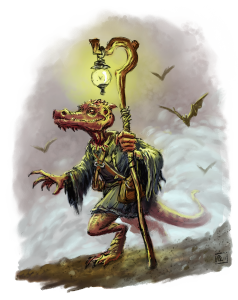 Water stretches out before you, reflecting the sky above. But what is within the pool? Perhaps the water element has more than just water in it! You can roll randomly for a result below, or use the handy number provided with each entry to figure out your result on a d12. You can also pick the one that works for the area in which your characters currently linger.
d12. Curiosity
Blue, shimmering fish dart around in the water. Their eyes look remarkably human.
A sheet of blue flame dances up out of the water every few minutes, adding a vertical element to the reflecting pool.
A herd of baby pygmy goats comes and splashes into the water, dancing and bucking. Each one has a ribbon with a different bell around its neck. Words are sewn into the ribbons.
The water isn't actually water but is instead a gel of some sort. Or maybe an ooze with astonishing reflective properties?
A bird flies overhead and falls into the water, then disappears from sight.
Every hour, the water solidifies into a crystalline structure, and the hour chimes out in high-pitched notes.
Strands of water tug at the digits of anyone who seeks to disturb the water with them.
The reflection of you morphs. You appear as if you'd lost every ounce of blood in your body.
When the first light of dawn hits the reflecting pool, a beautiful genderless humanoid dances down a sunbeam and walks the length of the shallow water of the pool.
Touching the stars that are reflected within the pool is rumored to connect you to an inscrutable being who temporarily possesses you for 24 hours.
Those who drink from the water of this reflecting pool are gifted with visions about the next person they see.
The pool's water level never changes, regardless of the weather conditions. Each day, the area around it smells of a different scent that provides delight to at least one person who ventures near it within that 24-hour period.