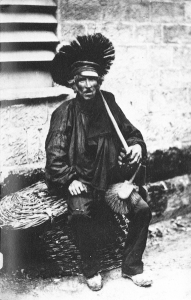 Count yourself lucky if all you got this year was a lump of coal…
__
In cities dominated by urban sprawl, where the smokestacks of industry billow smog enough to block the midday sun, where poverty and hardship reign over the mass of commoners, little more than slaves to factories and ironworks, the chimney daemon thrives. Posing as common chimney sweeps, the daemon delights in nothing more than dealing death to despair-ridden worker and prosperous pit boss alike.
Chimney daemons (also smokestack daemons or stovepipers) commonly appear as gaunt, middle age men in rustic top hats and soot-laden clothes, transforming their lower torso and legs into smoke and ash when on the hunt. Their razor-sharp wire brushes serve well to impale their victims and dispose of the remains in the countless brickwork chimneys of industrious cities…
Daemon, Chimney (CR 6)
NE Medium outsider (daemon, evil, extraplanar)
Init +5; Senses darkvision 60 ft.; Perception +6
Defense
AC 21, touch 16, flat-footed 16 (+5 natural, +5 Dex, +1 dodge)
hp 39 (6d10+6)
Fort +2, Ref +5, Will +5
Defensive Abilities evasion, smokeform; DR 5/good; Immune acid, death effects, disease, poison
Resist cold 5, electricity 5, fire 5 SR 17
Offense
Speed 30 ft.
Space 5 ft.; Reach 5 ft. (10 ft. with wirebrush)
Melee +1 wirebrush +12/+6 (1d6+2/18–20)
Spells Known (CL 6th, concentration +7)
At will—disguise self, bleed
Special Attacks finger of despair, sneak attack +3d6
Statistics
Str 13, Dex 20, Con 12, Int 15, Wis 13, Cha 12
Base Atk +6; CMB +7; CMD 23
Feats Dodge, Mobility, Weapon Finesse
Skills Acrobatics +14, Bluff +10, Climb +10, Escape Artist +14, Perception +10, Sense Motive +10, Sleight of Hand +14, Stealth +18; Racial Modifiers +4 Stealth
Languages Common, Infernal; telepathy 100 ft.
Ecology
Environment urban
Organization solitary or gang (3–6)
Treasure standard (+1 wirebrush)
Special Abilities
Finger of Despair (Su) A stovepiper can target a foe within 30 ft. (1/day), paralyzing the target for 1d4 rounds. Each round, the target receives a Will save (DC 14) to resist, and a successful save ends the effect. The save DC is Charisma-based.
Smokeform (Su) As a standard action, a stovepiper can change the lower half of its body to billowing, ash-filled smoke, providing the daemon a limited etherealness. It gains concealment and can move the lower half of his body through solid surfaces as though ethereal; the daemon ignores difficult terrain, can ascend vertical surfaces, and receives only half damage from falls.