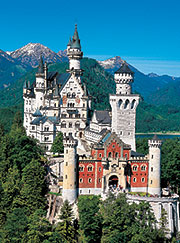 The turnout on the Castlespotting Contest was excellent, and I was amazed by your clever deductions and by strong Google-fu of many of the entries. Fortunately, many of the Castlespotting images were submitted by readers and not available online, and that's where things got interesting…
I was flat-out impressed at how many people got 20 right, and floored that a few got 21 correct, but only one team got 22 castles right out of 23 possible. Complete answers, castle locations, and winners are after the jump!

Our winners are Georg and Helga, who got all but one castle! Congrats to you, and your prizes will be on the way soon.
Castle List
Castle Grayskull (fictional)
Himeji Castle (Japan)
Neuschwanstein (Germany)
Malbork Castle (Poland)
Castle Kronborg (Denmark)
Hearst Castle (United States)
Swallow's Nest, near Yalta (Ukraine)
Bran Castle (Romania)
Framlingham Castle (England)
Mafra National Palace (Portugal)
Mauterndorf (Austria)
Pena National Palace (Portugal)
Burghotel Ehrenburg (Germany)
Cite de Carcassonne (France)
Windsor Castle (England)
Trakai Island Castle (Lithuania)
Corfe Castle (England)
Castelo dos Mouros (Portual)
Agra Fort (India)
Belvelly Castle (Ireland)
Kyburg (Switzerland)
Warwick Castle (England)
Woodland Park Castle (United States)
Thank you to everyone who participated, I quite enjoyed this tour of military fortifications and royal residences. I hope you enjoyed it, too, and I hope to do another one down the line.
If you like that idea, please email me your own favorite castle pictures (that have not appeared online!), and we'll go Castlespotting again!