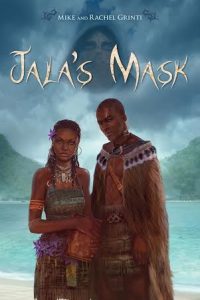 Jala and her people live on the Five-and-One Islands. They are a proud race of raiders who have mastered the art of building magical ships from the reefs that surround and protect their islands. This has been the way of her people for the last two hundred years. But things are about to change. King Azi is looking for a new bride and Jala is on the short list. Jala has been raised to be queen and there is nothing that her father wants more than for this to happen. When the time comes for their meeting, Jala is the exact opposite of what her parents have told her to be. This catches the king's eye and, despite his uncle's reservations, he chooses to marry her. Jala is whisked away from her family and friends and thrust into the middle of island politics. She quickly learns that her father's ambitions stretch far beyond just wanting his daughter to be queen. On the second night of her arriving at her new home, the island is attacked by mysterious ships arriving with a heavy fog that reeks of foul magic. One of the islands is decimated and others have not been heard from. In these circumstances, it falls to Azi and Jala to save their people, while trying to navigate the dangerous waters of island politics and trying to get to know one another.
This is not the type of novel I normally read. This is the type of novel I normally read. Those last two sentences are not typos. This is a fantasy novel that is filled with action and adventure, and I normally read those. This novel is a love story set in a fantasy world, and I don't normally read those. In the end, the co-author team of the Grintis made this a coherent novel that should appeal to a larger swath of audience than your normal run-of-the-mill fantasy novel. This is the type of novel that could get someone who is interested in romance novels to read a fantasy book. This novel, like the Navy SEALs, does double duty at land and on sea.
Jala's people live on the Five-and-One Islands, so it makes sense that they are a seagoing people. It was nice to see a non-Eurocentric society in a fantasy novel. The Grintis did their research and were able to insert enough real-life island culture into the novel without making the reader feel like they were trapped on a flower-covered tourist bus in Hawaii. I know that historically the Hawaiians were raiders, however I don't recall them raiding the mainland. I kind of got a bit more of a Viking feel from these raiders, and I enjoyed it. Nothing hugely surprising there, but the influence of the mainland was noticeable in their culture and ended up having a huge impact on the story.
Little of the action parts of this story take place on boats or ships, so I don't really have any comment on ship-to-ship combat. Because of the island element, I actually expected a bit more of this, but when viewed as a Viking-like society, I shouldn't have anticipated much of that. The magic reef ships were very like Robin Hobb's in that they were magical ships, but the similarities ended at the magic part. These ships were magically crafted from the coral reefs that surround the Five-and-One islands, and they enabled the people of the islands to not only invade the mainland, but protected their shores from mainland ships that might want to retaliate. This concept set up a major event later in the book and explained the Islanders' ability reach out to the mainland and raid. The authors didn't get too far into the details of the magic, but it worked.
Now for the love story portion of this book. Parts of it were awkward, but awkward in that young love kind of way, rather than poorly written or hormonal teen writing kind of awkward. Jala's and Azi's relationship has plenty of pitfalls and some of them had me yelling at the book, so I would say they did exactly what the authors wanted them to do.
There were a few times when things seemed kind of vague and some of the underlying plot hooks seemed to just kind of wash away, but that in no way made this book disappointing. The authors' writing style was easy to follow and felt genuine. The cultural context was just enough, and even with the kissing parts, there was enough action to keep me interested. I'd like to see more writing from these authors. I don't think that Jala and Azi need another book, but I wouldn't be averse to learning more about their world.