Sword of the Righteous!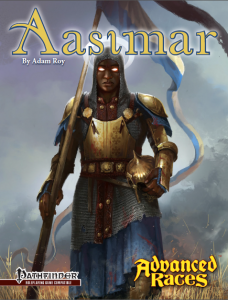 Aasimar might carry a few drops of heavenly blood—but they are warriors and summoners to be rightly feared! For they shall lay down the word of the Law, sinners, and strike down upon the wicked with furious anger!
With celestial power and the unique insight of the divine, the aasimar deliver both a touch of divine grace, and unique insight into how and why great evils might best be destroyed!
Advanced Races: Aasimar gives you everything you need to play an aasimar adventurer from the celestial traditions. This 20-page sourcebook by designer Adam Roy includes:
6 new aasimar racial traits and 4 Mythic traits including Celestial Awareness, Fiery Light of Heaven, Mythic Mark, and Splendor of the Divine
9 new Mythic feats and 4 regular feats, including Adamant Spirit, Greater Smite, Purity of Heaven, and Supreme Celestial Resistance
3 new archetypes: Celestial Rhymer, Celestial Summoner, and Purifier
14 new spells and 2 new subdomains, Angel and Radiance
3 new Mythic magic items and 4 Transcendant Artifacts
An overview of the Aasimar in the Midgard Campaign Setting
And much more!
The celestial chorus calls you to right the wrongs of the world—smite down demons, speak forth the words of the Law, and bring down your righteous hammer on the unholy!
Available now at DriveThruRPG, RPGNow, and Paizo.