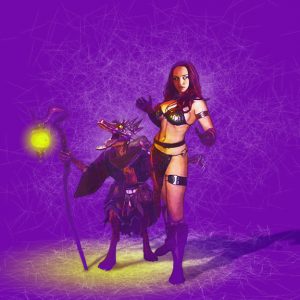 The Kobold King is in an unusually generous mood this week! March 20th was the 5th anniversary of Open Design, and to celebrate, he wishes to bestow his riches upon all.
Kobold ideas of "riches" are often different than humans', so we advised him that he shouldn't give away items from his collection of filthy rags, or gnomish thighbones gnawed in attractive patterns.
Instead, we're running a massive sale in the KQ Store through Thursday, March 24th! Here are the details:

Special Anniversary PDF: Spend more than $50 (US) in one purchase, and you will get a special free anniversary PDF chapbook that collects some of the best artwork featuring our beloved kobold mascot Jiro throughout the years.
Free PDF edition of any print item you buy in the Store that also comes in PDF format.
50% off these items:
• Kobold Quarterly issues #1 through #15 in PDF
• All gazetteers and adventure books in PDF
• Print copies (while supplies last) of: Sunken Empires (Pathfinder RPG), Iron Gazetteer (4th Edition), and Dwarves of the Ironcrags (3.5 Edition)
• Print copies (while supplies last) of the Kobold Guide to Game Design Volume 1, Volume 2, and Volume 3
If you're interested in witnessing the birth of Open Design, hop in the wayback machine and read the LiveJournal post that started it all, followed by Wolfgang's dawning realization that this could work.