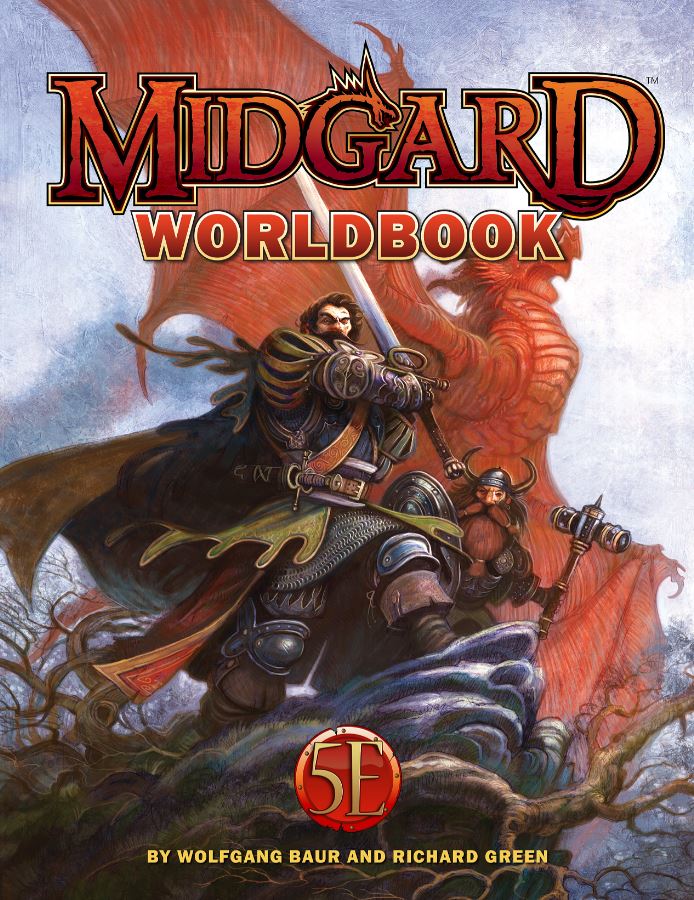 Whether you're a veteran tabletop RPG player or newer to roleplaying games, the phrase "campaign setting" likely holds some weight with you.
When a gaming group decides the campaign setting they play in, they decide the realm and reality their adventurers inhabit, and all of the implications that come with it. Setting is an integral part of most games, and shouldn't be chosen lightly.
There is no shortage of incredible Dungeons & Dragons 5e campaign setting (published, homebrewed, or a hybrid of the two). And yet in the sea of other settings, Kobold Press's Midgard carves out a place among countless gaming tables. Why is that? What makes many gamers choose Midgard over other D&D 5e settings?
We're going to give you a look into what makes the Midgard setting a favorite of players and Game Masters everywhere, and help you begin to explore it yourself.
Brief Origins of the Midgard Campaign Settings
The Midgard campaign setting is a world of dark roads and deep magic. It started as the homebrew setting of Wolfgang Baur, which he began creating when he was a young teenager of about 14.
The setting grew, evolved, and was refined over time. Portions of Midgard have been played in since the 1980s, while much of it was brought to tabletops through Kobold Quarterly magazine. Eventually, Midgard saw more comprehensive releases through Zobeck and the Crossroads in 2006. The full realm of Midgard would be published six years later in 2012's book, Midgard Campaign Setting.
In January of 2017, Kobold Press launched a Kickstarter campaign to release a version of the Midgard setting for Dungeons & Dragons 5th edition and Pathfinder RPG. It successfully funded and went on to hit many stretch goals, allowing Midgard to continue as a preferred realm of play for many discerning tabletop gamers.
So What Sets Midgard Apart?
Most campaign settings have lore and concepts that cause them to stand out. These pillars of the world influence the style and tone of games that a group plays within it.
One stand-out feature of Midgard—even among some incredible settings—is that it is analogous to our real world in a palpable, recognizable way. It has deep roots in European myths and folklore from our world. It allows those legends and figures to come to life as fully realized characters and inhabit the realm of Midgard with their goals and machinations. This injection of relatable lore makes the setting feel fantastical and magical, but also grounded and connected.
Another reason Midgard is such an incredible setting: Wolfgang Baur has been the visionary of the setting since its inception. Having the creator involved from its creation grants the realm of Midgard a cohesion, consistency, and detail that is virtually impossible with campaign worlds that change creative hands over the years.
Because of Baur's passion and love for the realm and his hands-on approach, he has forged a cohesive world that is wild and unique, but still makes sense. He also enables and guides the teams that work alongside him to create one of the most inclusive, comprehensive, prolific, and well-crafted campaign settings you can find.
With Baur at the helm, the creative team for Midgard is aware that on the surface the world could appear to be "just another fantasy setting." This is one reason the Midgard Worldbook lays out major aspects of Midgard that show how it's unique. This section is called the Seven Secrets of Midgard, and it covers the foundations that shape Midgard (delivered in easy-to-digest paragraphs).
The Seven Secrets of Midgard cover everything from Midgard's mischievous gods who don't appear as they seem, to its elemental dragon lords, to its shifting borders and kingdoms that fall around you as you play—and that's only three of the seven! These easy-to-read secrets give you a clear snapshot of the pivotal aspects of Midgard to anchor yourself within the world.
The Midgard Worldbook is Your Gateway
Let's be real—you might feel like a campaign setting that has lived in the mind of its creator for decades and seen play since the '80s would be too difficult to get into. That's fair, but honestly, it just isn't the case . . . especially with the release of the Midgard Worldbook.
With the publication of the Midgard Worldbook, Kobold Press didn't just make "Midgard 5e." They weren't simply going to reprint old lore with updated mechanics for 5th edition and Pathfinder. Instead, they allowed the world to shift and evolve. In a letter to the readers within the book, Wolfgang Baur himself explains his vision for updating the state of Midgard.
In the letter, Baur explains that in a truly living world, changes are going to occur. Volcanoes erupt, demonic invasions succeed, and world-changing events come to pass. When this happens, the rest of the world has to react, or stand by and suffer the consequences.
The Midgard Worldbook purposefully made the realm a place of change, allowing 10 years of "in world" time to pass since the publication of the Midgard Campaign Setting. This passage of time in the world is the perfect opportunity for new and veteran players alike to jump in and experience its changes for themselves.
When you begin exploring Midgard, you don't need to concern yourself with what happened in the setting years ago—you need to care about what's happening now. Midgard is ever-changing. It's wider, deeper, and richer in strangeness and adventure than ever before.
Many fates hang in the balance in Midgard, and those fates can only be decided by those willing to take action in the realm. That's where you come in.
Explore Midgard Through Play
The best time to jump into Midgard is right now. Think of it the same way you might think of a trip to any exotic location. If you were traveling to a new country in the real world, you'd learn enough to enjoy it. But part of the reason for a trip like that is to experience the place. In a new locale, nothing can replace walking through the streets, taking in the sights, hearing the sounds, smelling the smells, and meeting the people. It's the same with Midgard. In this case, your ticket to this particular exotic land is the Midgard Worldbook.
Some players and Game Masters feel they need to "learn" Midgard before diving in, and that's just not the case. To explore Midgard, you don't need to be an expert—you just need a sense of adventure. Whether you're familiar with the Midgard of old or just learning about the Midgard of today, you can jump in and experience this unique setting one adventure at a time.
Midgard is a world of dark roads and deep magic facing an age of war. Adventurers like you are the only ones who can truly make a difference.
We'll see you on the streets of Zobeck and beyond, friends.
Join the Kobold Community
If you're excited to explore Midgard, you don't have to do it alone! Kobold Press has plenty of options to connect with our large, welcoming, inclusive community.
If this article piqued your interest and you want to explore Midgard further, enjoy our amazing, interactive Midgard online map tool here.
Additionally, you can find many more character options and short adventures on our Patreon. Become a Patron of our Warlock Patreon for Midgard zines with support tiers starting at just $1 per month.
Finally, are you looking for a game to play in? If so, join one of our virtual tables. The Kobold Chronicles Discord channel handles monthly organized play for Midgard. Find your next game.