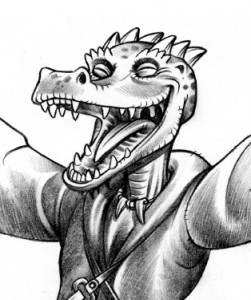 Big news! At 6:00 PM PST, we're officially moving the Kobold Forums community to some shiny new digs: the brand-new Kobold Press community on Google+.
Why the move?
Google+  has a strong community of tabletop RPG fans, many of whom use it as a platform for running games using Hangouts
If you have a Google Account, it's easy to activate G+ and join the Kobold Press community; if you don't, it's easy to set one up
It has great features (such as video integration) which open up possibilities for cool online community events
Most importantly: it lets us spend our time talking to gamers instead of wrestling with technical issues and playing Whack-A-Mole with spammers. Seriously, we hate those guys. (Spammers, not gamers.)
Which brings up another thing: rather than abandon the forums to spam, or have them live on in a sad half-life where people are posting but we're not replying, the Kobold Forums are going to shut down completely at 6:00 PM and disappear from the site. They've served us well for many years, and we've had great discussions there, but it's time for us to move those discussions to a new home.
Let us know if you have any questions, and we'll see you at the new place!