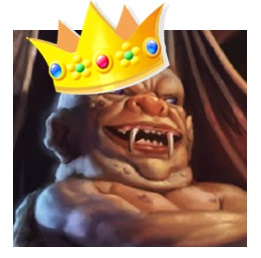 Slavish followers of Kobold! It is I, the Whispering Homunculus.
You may recall the time I seized control of Wolfgang Baur's mind, took over Kobold World Headquarters, and published my own book. How the kobolds wailed and gnashed their teeth in rage when they learned what I'd done! Too late! Too late! Hee-hee-heeee!*
But my irritating cackling is far from done! Because for two weeks in a row, Your Whispering Homunculus has outsold all three 1st edition Advanced Dungeons & Dragons core rulebooks on Paizo.com.
Let me repeat that at slightly higher volume: FOR TWO WEEKS IN A ROW YOUR WHISPERING HOMUNCULUS HAS OUTSOLD ALL THREE 1ST EDITION AD&D CORE RULEBOOKS ON PAIZO.COM.
This proves that Your Whispering Homunculus is better than 1st edition AD&D. Which makes me, the Whispering Homunculus, the greatest roles-playing game designer in the history of the world! Better than Baur! Better than Cook! Better than anyone! Hee-hee-heeee! Eee-hee-hee-hee-hee-heeee! I caper madly!
Refuse to choke down the raw sewage of lesser game products! Avoid being judged and mocked by future generations! Buy Your Whispering Homunculus today!
*I also rubbed my bum on every copy of Kobold Quarterly #21 before it was shipped.