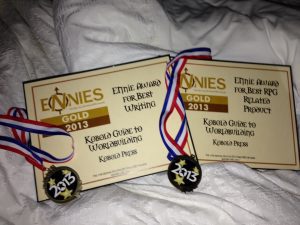 When the Complete Kobold Guide to Game Design took ENnies gold last year, we were delighted—because it's a game product that helps create new game designers.
Well, it happened again in 2013. The Kobold Guide to Worldbuilding won TWO gold ENnie awards for Best Writing, and Best RPG Related Product.
Congratulations to Wolfgang Baur, Keith Baker, David "Zeb" Cook, Monte Cook, Jeff Grubb, Scott Hungerford, Chris Pramas, Jonathan Roberts, Ken Scholes, Janna Silverstein, Michael A. Stackpole, and Steve Winter!
We're gratified and humbled at this recognition from our fellow industry professionals, and the fans. Our whole series of game design books embodies the principles that Kobold Press was founded on, and it's great to see that others find value in them.