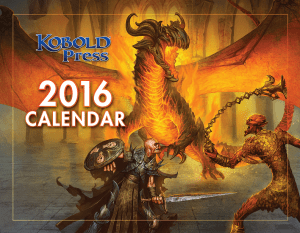 Wondering what the new year will bring? Wonder no longer! With the 2016 Kobold Press Calendar on your wall, each month takes you from the fey court of the River King, to the citadel of a powerful void dragon, and beyond! These scenes are brought to life by talented artists including Marcel Marcado, Cory Trego-Erdner, Aaron Miller, Guido Kuip, Bryan Syme, and Fred Fields.
And there''s more! This limited-release item also includes the following:
Release dates of iconic games, past and present
Release dates of landmark fantasy and science fiction movies
Birthdays of famous science fiction and fantasy writers, and gaming professionals
The 2016 Kobold Press Calendar makes a perfect gift for the fantasy, SF, or gaming fan in your life——or the perfect addition to your own gaming den! AND you can find it in our Kobold Press store right now!