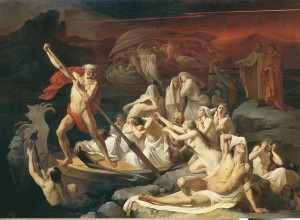 After being chosen as a finalist by the judges and receiving the largest number of votes by our voting public, Sersa Victory's Crown of Charon victory has received the Call to Valhalla!
Congratulations, Sersa!
We asked Sersa to give us a few words to share with you all, and here's what he had to say:
"Thanks to all the judges and voters—I'm humbled to have had my pitch
chosen. This is a great opportunity to expand my skill set, to apply my
design sensibilities to a system I haven't worked with much in the past.
"The Crown of Charon" is an adventure concept I've had in my head for
several months, and I figured this contest would be as good a place as any
to pitch it. Those of you who are familiar with my work should have a good
idea of what to expect; however, this adventure will also aim to trade
some of the deadliness and trickery with a greater emphasis on character
interaction. I look forward to working with the Kobold Press editors and
hope I can both represent them well and give you all a fantastic adventure
you'll want to run again and again."
And many thanks go out to all of you for submitting pitches and voting!