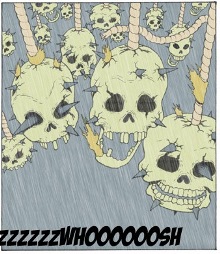 Every good trapsmith knows about the three C's: Cheap, Crude and Cruel. Every wise trapsmith knows that goblins excel at designing traps based on the three C's and as a result, many retain the services of a goblin as a servant or assistant. Neighbors may complain, but consulting a goblin's expertise is usually worthwhile, as goblins themselves are cheap, crude and cruel. They seem full of inventive ideas for maiming and mutilation, and seem to consider trapmaking an art akin to decorating tribal banners.
The skull-on-a-rope is a perfect example of this goblin philosophy. It is deadly but uses only materials scavenged from the remains of their enemies….

Skull-on-a-Rope Trap
To build this trap, sharp pieces of scavenged metal are jammed into the skulls of defeated enemies, allies and tribal members. Then the trapsmith attached a stout rope the prepared skulls and hauls a dozen or so up to their starting position. With that done, the skulls-on-a-rope are ready to swing down on their targets and wreak havoc.
Goblins use the skull-on-a-rope trap primarily in ambushess. The key fact is that while most races are stronger than goblins, most races are also taller than the average goblin. The skull-on-a-rope specifically targets Medium and taller creatures, leaving Small creatures untouched.
Brave or expendable goblins will try to draw their foes into the 10-ft square area where the trap can be triggered. A DC 22 Sense Motive check determines the intent of the goblins.
Skull-on-a-rope Trap CR 1
Type mechanical; Perception DC 18; Disable Device DC 19
Effects
Trigger location; Reset repair
Effect 4d4 dmg, DC 14 Reflex save avoids; Multiple targets (all Medium or taller targets in a 10-ft. square)
Increasing the Deadliness
For goblins, putting filth upon the metal bits and parts is an easy and cost efficient method to increase the deadliness of the trap. The CR of the trap increases by one, if a hit exposes the targets to filth fever.
Filth Fever
Type disease, injury; Save Fortitude DC 12
Onset 1d3 days; Frequency 1/day
Effect 1d3 Dex damage and 1d3 Con damage; Cure 2 consecutive saves
Art is by Tarol Hunt of the Goblins Web comic, and is used by permission.