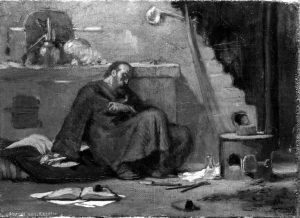 The lock posed no challenge to his skills. After Gavin opened the door, he saw that the place was filthy and infested with vermin. He took a few steps in, dropped the items he had scavenged from all over town on the floor, and closed the door behind him. The sledgehammer, the rusted length of chain, and the bag of sand hit the floor, stirring up dust. He could have spent some coin to acquire some better quality items, but this target didn't deserve that. He deserved something, but not that.
Gavin went to work setting up the device, then he took the folding chair, the only item that he had spent money on, positioned it just right, and then sat down on it.
A shuffling sound outside the door alerted him that his quarry was approaching. The door creaked open, and moonlight shined on the face of his target. Gavin saw surprise and incredulity shift into anger as the man's expressions changed.
"What do you want?" the target spat.
"I am here to watch you die" Gavin replied.
What people don't realize is that trapsmiths are killers. The worst kind of killers—the kind who kill for money. They accept a contract from a patron, and death is the end result. But the blood that inevitably flows does not stain the trapsmith's hand as much as an assassin's, so society accepts the trapsmith and reviles the assassin. This also means that trapsmiths don't receive the wary respect that assassins get in spades.
The snapping chain trap is usually used to quickly dispatch intruders. It requires some knowledge of humanoid bio-mechanics: the way a body reacts to outside stimuli. When set up properly, the sledgehammer strikes the body just below the sternum, causing the upper body to flinch forward. This exposes the neck and allows a chain to be wrapped around it. The chain is then tightened by a falling bag of sand, snapping the neck and causing instant death.
Snapping Chain Trap     CR 8
Type mechanical; Perception DC 25; Disable Device DC 23
Trigger location; Reset none
Effect sternum slam; atk +18 melee (2d6 damage + snapping chain)
Effect snapping chain (the target must succeed on a DC 20 Fortitude save or die; if the target succeeds on the save, it still is sickened for 2d4 rounds and falls prone)
Next Installment
What can Gavin do with a 10-ft. pole, a wizard's wand, a bottle of lantern oil, and a frying pan?
The Challenge
Name four adventuring items and receive a murderous trap in return.