Wouldn't it be great if your dice never fell off the table? What if every attack roll came with a sound effect, and your character's damage, marks, and every other condition were all tracked for you? It would be the perfect gaming table, no?
Well, stop wishing because it exists and I saw it in person this morning. The SurfaceScapes team at Carnegie-Mellon University first showed off their prototype last year (last year's video walkthrough), and it was awesome. Now they're rolling out version 2.0, with a better interface and added functionality. They will demo the real 2.0 at PAX East and GDC — but they revealed a few secrets to the shifty Kobold Masters.
Well, and to other game and tech bloggers, apparently, but hey, there was no way in hell I was going to turn down the invitation.
The D&D application on Microsoft Surface is pretty much everything you'd want in a game table. It is a smooth, enjoyable environment that does all the numbers, movement, and turn order. It shows you your options for single and double moves (including around terrain!) when you lift your figure. It provides power descriptions and choices as needed. Check out CNET's short demo video of the current functionality above and you'll see what I mean.
Now, the fact that gaming is driving some tech innovation shouldn't be surprising. The Surface technology was originally called PlayTable, and SurfaceScapes pretty much represents a return to those roots. On to a few points worth noting from my short, 45-minute test run:
1) Movement and line of sight work great. In fact, a clever DM can distract the players, then move an orc from one patch of cover to another, where he again becomes invisible — right until the moment a PC gets line of sight on it.
2) It's still a demo. They've got a TON of work to do to integrate more powers, but the newest build for PAX East covers up to 5th level PCs, plus area attacks. Lots of basics still aren't implemented, like say a charge or anything outside the 1st PHB half-Heroic tier.
3) The sound effects. Subtle, but powerful. Each attack comes with a sound. Dropping a dragon figure on the surface generates a roar and cloud of smoke. I could get used to this. What does a beholder sound like, I wonder?
4) The Infinite Map. Being able to scroll the map under the figures is nice; it makes the table infinitely large. Not news for Fantasy Grounds players, but obviously useful. When the map scrolls, colored lines connect your figures to their new positions to make them easy to shift.
5) Figures and Screens Together. The combination of real and virtual PCs and NPCs worked much better than I expected. There's been some hard work done on the interface design which takes me to …..
6) At Your Fingertips Overall, the interface is intuitive and easy to learn. You can pull up your PC's powers on the table. Frankly there's no reason this couldn't be integrated with the DDI if that's the direction the team wanted to go.
7) 4E-Only. I asked about Pathfinder or generic game support. It ain't happening; this is specifically meant to handle 4th Edition Dungeons & Dragons. A generic system would probably be less valuable to gamers than one that handles specific rules.
The Smartphone App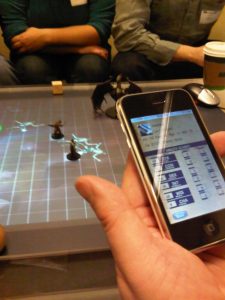 They showed us little more than a basic character sheet, but it's possible to pull up your character sheet on a smartphone (for instance, to consult when it's not your turn, or the table is crowded with minions) that is linked to the character's damage and conditions at the table. I would love to tell you more about this, but …. I was just able to grab a quick picture.
DM's Screen
The other new element is the related DM tools. They didn't talk this up because it's not done through the Surface, but through a linked PC. Here's a picture of the DM's experience on a PC; he can move elements, show area maps, and so forth. You make already use your laptop screen as a DM screen — this just completes the loop and lets you modify the battle map without ever leaving your laptop. As a GM, having a "live" map like this where I can see current PC stats at all times would be amazing.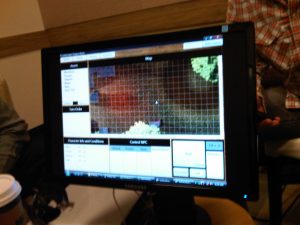 And hey, it's not just PC character sheets that are integrated; you've got all your monsters and NPCs right where you need them, on a laptop linked directly to the animated monsters on the Surface. Better still, tracking monster HP or answering player questions about defenses just isn't necessary; the calculations are all embedded. This frees up a not-inconsiderable amount of DM time during combat. Heck, it can even enforce the use of encounter and daily powers.
What's Next for D&D SurfaceScapes
Beyond demoing like mad at GDC and PAX East, about 2/3 of the Carnegie Mellon team is graduating and looking for work. Two team members will continue the work at CMU, but it's unclear whether Wizards of the Coast or anyone else is ready to fund a full rollout of the tech. That's a shame, because they've come a long way with this concept, and it remind me a bit of the Wii controller and Project Natal: a new interface technology, which enables us to play old games in new ways — and of course, to invent entirely new games.
The reaction of gamers to this tech last year was pretty universal: everyone wants one for their home, and I can see why. But I'm pretty sure that's not gonna fly. The price is still too high, for one thing (though there was loose talk of "examining other form factors"), and — more importantly — this is a technology you really only bring out for a group of people. It makes more sense in a bar, pool hall, casino, or convention hall than in your dining room. It's multi-user computing, meant for groups around a table who all want to use the screen at the same time — ideal for board games and certainly RPGs.
I'd be satisfied if they delivered one to my friendly local game shop. Tomorrow.