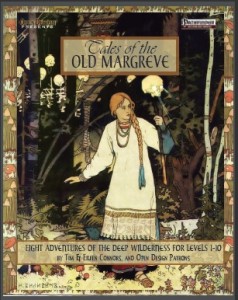 As the Open Design experiment has expanded and won critical and publishing success, a few people have clearly shown just how great collaborative adventure design can be. Tim and Eileen Connors are right at the top of the list, and I'm happy to announce that Open Design is commissioning a project that they will lead: a Pathfinder RPG adventure anthology of 8 adventures set in the deep forest dark, and called Tales of the Old Margreve.
Tim and Eileen write, "We are incredibly excited about Tales of the Old Margreve. What nightmares lurk under its dark canopy? What superstitions well in its dark hollows? Soon, we'll put out our fire, shoulder our packs, and enter the darkness of this frontier. We're hoping you'll take up your torch and join us… before the night swallows us all."
Patrons will design the 8 adventures with feedback, discussion, and review by Tim and Eileen and their fellow patrons, using discussion in a private section of the Kobold Quarterly forums. As with other recent Open Design adventures, the final project will be published in print and available to the public. Patrons will have an inside view of the process and can shape the adventures with comments or by direct design contributions. In addition, all patrons will be credited. Several Open Design patrons have learned enough from this collaborative style to go and publish work with other RPG companies as well, and because of the high number of eyes on the design, the level of design has been very high, with Open Design projects winning multiple awards.
The Tales of the Margreve project commission is starting today and should be complete by April 10; if the project is not funded in time for any reason, all patrons will get a full refund.
Sign up for Tales of the Old Margreve today
Award-winning designers Tim and Eileen Connors have written fan-favorite adventures in Dungeon magazine, including "Escape from Meenlock Prison" and "Siege of the Spider Eaters". They have penned scenarios for Pathfinder Society, written many feature articles for Kobold Quarterly, published 3.5 edition and Call of Cthulhu adventures in three Open Design projects, and won a Silver ENnie for their "Tail of the Mouse King" adventure in the Tales of Zobeck anthology.