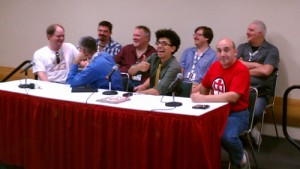 This year at Gen Con, panelists Greg Stolze, Wolfgang Baur, Ryan Dancey, Stan!, Daniel Solis, Will Hindmarch, James Ernest, and Jeff Neil Bellinger gathered together with seminar attendees to discuss the best games EVER! (just as the seminar name says). Each panelist had a favorite or two, as did several of the attendees. The choices named ranged from board games to card games to computer games to roleplaying games. (More beyond the jump.)
As the discussion continued, some topics that came up regarding what makes a game a "best game EVER!" include the following:
A game can be fun despite its weaknesses.
Games can depend a lot on your fellow players. Interactions with friends and family can make a game fun.
If you're looking for a great game that suits your playing style, you can use social networking to help you discover what will work for you. Additionally, attending conventions (such as Gen Con) can provide you with a way to try out a game to see if you'd enjoy it.
So, what game is your best game EVER? Please do comment below, and tell us why!