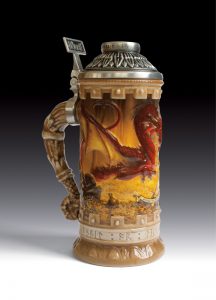 It's fair to say that gamers love their dragons, their treasure, and their steins.  And seeing as the roleplaying tradition started in Lake Geneva, Wisconsin, just a stone's throw from the brewing capital of Milwaukee, perhaps that's not surprising. Well, here at KQ, we're carrying on the tradition, fusing an official Hobbit Super-Stein with the finest Hobbit imagery available. Yes, the good people at Taverncraft have given us one of their Smaug the Magnificent Epic Collection official Hobbit steins, and it could be yours!
The stein has been hand-crafted and has snazzy metal fittings, and frankly, it's big enough to give Big Ernie from Milwaukee a plausible sized beverage. Ok, it's huge, it's a little over the top, and your wife may hate it. Stand up for yourselves, fellow Hobbit-lovers, and fill this baby with Mountain Dew, Diet Pepsi, barley wine, brandy, any fine beverage that goes well with the clinking of criticals and the mashing of monsters!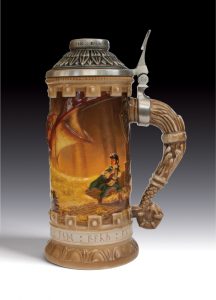 To enter to win, just send us an email with the subject line "Smaug Stein Contest." In the body of the email, tell us in 20 words or less why YOU deserve to steal away the classic dragon's treasured stein. Is it your hairfootedness? Your bold and heroic dragon-killing stare? Your one d20 to rule them all? Let us know why you're a winner, and hey presto, you'll be swilling fine hobbit ale in no time (hobbit ale not included!).
All entrants will be signed up to receive a free copy of the Kobold Courier, and one lucky winner walks away with this one stein. Contest ends December 1, judge's decisions are final, no purchase required!  Open to US residents only, because you must have a US address for shipping.  Void where prohibited.