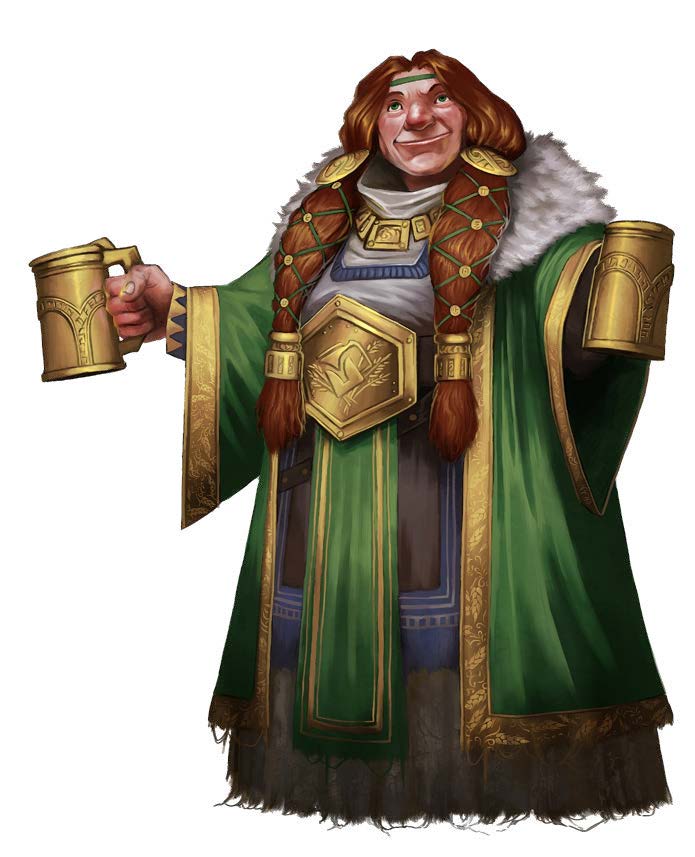 Welcome to another installment of the Play with Class series where we will give you solid steps to run each class for the world's greatest roleplaying game! This week, we're chatting about one of the classic classes: the cleric.
The divine adventurers known as clerics have been kicking around since the earliest versions of the game. With the ability to wear armor, blast their foes with holy fury, and bring allies back from the dead, a cleric is always in demand. Clerics in 5th edition have a lot they can do and can be an overwhelming class choice for a green player. If you choose to play a cleric, you are expected to keep your party alive, or you are expected to come up with an excellent reason why you don't. So new players, turn back! Cleric may not be the best class choice for you.
Role of the Cleric
The cleric has traditionally filled the role of healer in a standard adventuring party. With so many spell choices geared toward healing, buffing, and regeneration, it takes a lot of work to break out of this prescribed mold. Clerics can, of course, fill other roles by picking up specialized subclasses and selecting different domains, but at the end of the day, you are just so much better at keeping everyone alive than any other class.
The cleric is the only spellcasting class that gets access to armor and shields right out of the gate. This protection is excellent because your job as a cleric is to run straight into the center of the action to be in range to aid your allies or strike your foes as needed.
Reasons to Play a Cleric
You are good at everything: you can sling spells and enter melee without breaking a sweat.
Everyone wants you in their party (especially if you take healing spells).
Roleplaying a connection to a god can be extremely satisfying.
Combat Crash Course
There are many different ways to handle a cleric, so what do you focus on in combat? Before anything else, you need to keep yourself set up for success. Clerics have many tools at their disposal, and here are a couple of suggestions to make sure you can use them.
Go the Distance
Clerics have a very juicy spell list. They've got great healing options, some solid damage options, and sweet buff/debuff abilities at their disposal. To be the best cleric you can be, you need to be constantly aware of where your allies and foes are. Being able to touch your dying tank or to stay within range to blast a beam of light is critical to your party's success. The best way to do this is to get right into the center of the action as quickly as possible. Clerics get medium armor and a shield emblazoned with a holy symbol for a very good reason. So suit up and stay precisely the distance you need to resurrect your barbarian for the tenth time while they chop away at demons.
Contingency Plans
Clerics are sort of like everybody's mom. They have a spell to solve just about every problem. This versatility makes you a powerhouse on the playing field, but it can also be incredibly stressful during combat. The best thing you can do as a cleric is to always have contingency plans in place. Before your turn, think about what you ideally want to do. Next, think about what you might have to do if one of your allies gets torn to pieces. Next, think about what you might do if hell (literally) breaks loose. See what I'm getting at here? To play a cleric well, you have to be ready to roll with the punches because you are likely the only party member who can stop a bad situation from getting worse.
Level-Up Picks
To be a killer cleric, you have to decide your role in the party and lean into it. Here are some level-up tricks to keep in mind.
Be Very Picky
I'm just going to say it. There are a lot of subpar domain options you can stumble into as a cleric. When choosing your domain, it is easy to get tempted by a sweet spell list. However, you should ignore the spell list and decide based on the Channel Divinity feature. Channel Divinity is your cool cleric card to pull out to shake things up, and it is the most crucial aspect to inform your character build. You will get access to amazing spells as a cleric, whatever you choose, so ensure that Channel Divinity is a fantastic option for the role you want to play.
Find God
As a cleric, you technically don't have to worship a god to get your powers. However, the fun story interactions that come up when your cleric has a strong relationship with a divine being are well worth the choice. You and your GM are going to have a lot more fun if you pick a god appropriate to your campaign and lean into your relationship with them. Having divine conversations, visiting specific temples, or unraveling bits of lore is so much more fun when your faith points in a clear direction.
Flavor Savor
If you want to check out some flavorful choices to get your holy on, here are a few things to check out:
Get the party started with the Beer divine domain (see Deep Magic).
Clerics can use an emblem as their holy symbol to cast spells, which means you can get creative with where you put your divine mark. A cool helmet, a tattoo, wherever you like, it's a chance to get creative!