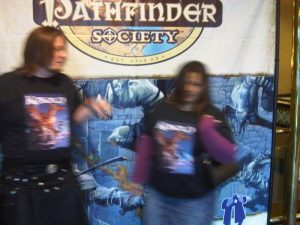 We're recovering from the convention, sorting out cardboard boxes, new subscribers, and shoveling through inboxes. And I'm thrilled we went—it was a great convention in so many ways and we'll definitely do it again next year! I just want to share three highlights with you, and a couple more shaky-cam pictures, behind the jump.

1) Our Booth Rocked: You might have noticed a certain nervousness about the booth in the posts last week. It's a big deal organizing, but Shelly Baur and the booth team of Sigfried, Anne, Adam, Scott, and Luis did a great job. We enjoyed signing products, giving away prizes both glorious and feeble, and generally talking face-to-face with you. Thank you to everyone who stopped by!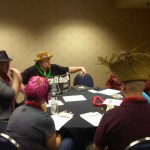 2) Panels Coming on Video: The three KQ/Open Design panels were well attended (Paizo founder and CEO Lisa Stevens showed up to the "How to Found a Publishing Empire" panels—in the audience! Eeep!). I'd share the full details of what was discussed, but all three panels were recorded, and I think we'll have links for them here soon. You can hear Brandon Hodge, Stan!, and yours truly chat by tele-remote-optic-delay technology! Er, in a week or two when we pull files together.
3) The Kobold Dinner Kidnapped Jason Bulmahn: The Patron's Dinner already had awesome guests: novelist Dave Gross, designer Brandon Hodge, king of the monsters Adam Daigle, and artist Hugo Solis, among others. But in a fit of kobold trickery, we kidnapped Jason Bulmahn by the clever expedient of asking him to come have dinner. He fell for it! By the time we were seated, he sort of figured it out.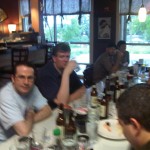 "Hey, is this the Kobold Dinner or something?" he asked.
"I'm buying the first round," I replied.
"I'm in! Great dinner!" he said. And I knew our mission was a success!
Jason regaled the group with Pathfinder design tales, Dave Gross and Brandon Hodge talked Pathfinder Tales as well, all was good. We hope to do it again next year!
That's the short summary. Thank you to the Paizo crew for putting on a great one, and thanks to everyone we met at the show!
If you've got a story, thought, or pic about the show, please share in comments.