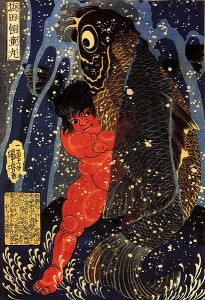 Templates give you an easy way to update a creature from a normal version to an elite version. Each template is assigned one or more roles, and—although it isn't necessary—a creature is best served by using a template that matches its original role.
See the 4E Dungeon Master's Guide for more on templates.
__
Legendary (Elite Skirmisher or Soldier (Leader))
Some creatures rise to legendary status through great deeds and achievements; others may be infused with powers from other realms. Whatever the reason, these creatures are truly awe-inspiring to behold and their bearing makes even the thought of harming them hard for most to conceive.
The legendary template can be applied to any creature. These creatures have a stature and powers much better than a typical creature of their type, and they penalize enemies for attacking them…Prerequisite: Any creature.
XP Elite
Senses low-light vision
Defenses +2 AC, +1 Reflex, +3 Will
Saving Throws +2
Action Point 1
Hit Points +8/level + Constitution Score
TRAITS
Predominant • Aura 5
Enemies in the aura suffer a −2 penalty to saving throws.
Preeminent
The legendary creature gains a +1 to attack and damage rolls. (These values have already been added to the powers presented in this template.)
MINOR ACTIONS
[M] or [R] Fierce Challenger • Recharge 4, 5, 6
The legendary creature makes a melee basic attack or a ranged basic attack.
TRIGGERED ACTIONS
[c] Majesty • At-Will
Trigger—The legendary creature is hit or missed by an attack.
Attack (Immediate Reaction)—Close burst 20 (triggering enemy); level +3 vs. Will.
Hit—Target is dazed (save ends).
Legendary Tactics
A legendary creature often makes itself an available target since any attack triggers its majesty power. It uses its fierce challenger power to gain an additional attack. Its predominant ability makes ongoing effects from its allies or its own powers hard to save against.