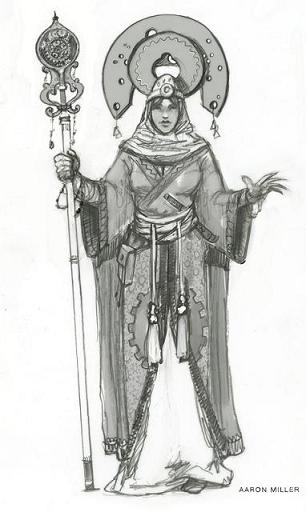 It's been moderately busy in Midgard, with the first — draft-level, not final! — Dragon Age RPG content delivered as part of my Prince of Midgard interview with the Oracle: the Triolan Corsair background.
The Stargazer's World interview expands on that with a short history and discussion of the future plans for the setting. Throw in this terrific sketch of a priestess of Rava by Aaron Miller and the recent Declaration of Principles, and I'd say not a bad week.
Funding News
The real news, of course, is that the project is closing in on funding goal! We're looking at a launch into the first design stage in early February, or possibly sooner if a handful more patrons join us.
Mechanics for the Setting
As noted in week 1 report, the Pathfinder RPG and the Dragon AGE System seem to be the mechanics of choice. Not sure where the 4th Edition support has gone, but perhaps the fact that 4th Edition Dungeons & Dragons has 3 official campaign settings at last count—where Pathfinder and Dragon Age have one each—may have something to do with the varying levels of support….

Design Progress
Creatively, my big accomplishment was eating sushi with Jeff Grubb, which proved to be so inspiring I went back to my desk and wrote the entire outline for the setting. The outline was at 200+ pages before I realized that was completely insane and cut it back to 192. Now I'm tweaking it and second-guessing myself, and will share that outline with patrons as soon as when it's ready, likely in the next week.
If you are not a patron yet, what would you like to know about this setting? If you are a patron, what region or element would you like to tackle first?