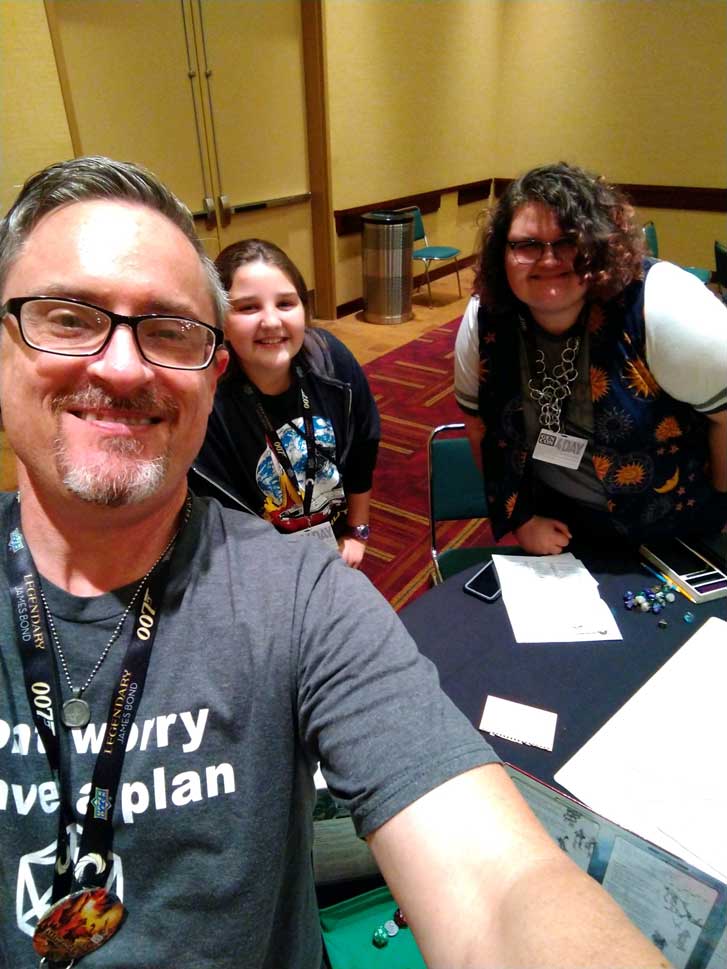 Gen Con 2019 is done, and I'm on the long road back to upstate NY. This was my fifth year of seriously coordinating convention games for Kobold Press. We've had wonderful volunteers in years past, and this year was no different.
We hosted 50 tables, offering a dozen scenarios in three different systems. We had nearly every table full. It was one of our largest if not our largest year yet. We had two new adventures—one from veteran designer Jerry LeNeave, further exploring the Southlands and the legacy of the heretic Tiberesh, and another set near Zobeck from Michael Turbe, who founded and guides a discord community focused on organized play set in the Midgard setting. Other adventures included 5th Edition, Pathfinder, and 13th Age material from a broad range of authors, including Dan Dillon, Sersa Victory, James Haeck, Wolfgang Baur, and new voices like Kelly Pawlik. Responses from folks around the tables were great.
I also got to meet awesome Kobold editor Meagan Maricle and to attend the ENnies with her, Brian Suskind, and Anna Meyer. We enjoyed the presentations and cheered as the Creature Codex took the Silver ENnie for Best Adversary. The field was crowded with quality entries, so it's great to see the hard work appreciated and recognized.
Sunday morning brought a bit of a tradition as I met back up with some of the GMs who were still in town. We talked games and sessions and crazy events across the last four days, hanging out for a while before some of us needed to get the dealer room one last time or make our way to final games of the show. It was wonderful to put faces to names and emails that otherwise just existed in my inbox. I always find the best experiences at Gen Con come out of those small moments around a table hanging out with a group of fellow gamers and sharing stories from the show.
It was a great convention, and one every gamer ought to try to experience at least once. I'm really proud of what we were able to do, how all of our volunteers were able to make it an even better show for the people who sat at our tables. Here's hoping to many more years as good or even better.
And photos!