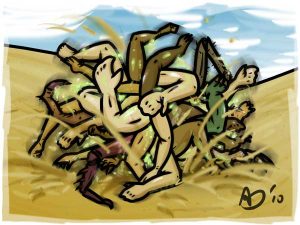 (Art by Ashton Sperry)
A few weeks ago at NeonCon 2010, I ran a workshop called Monster in an Hour. The plan was to do some crowd-sourced monster design. I wanted participants to think up the things that horrify them not only as a player but also as a person—then we'd build it together.
After talking about the truly monstrous for a few minutes, we decided on the important foundational elements for our critter-to-be (Type, CR, Hit Dice, and size). From there we went down the list, debating attacks, brainstorming abilities, talking over the ecology, so this monster made sense to our deranged minds. In the process, we used my patented Daigle Monstertron 3000 technique and fleshed out this horrible monstrosity for your GMing delight (and for players' weeping and gnashing of teeth)…

I had a lot of fun and my fellow workshoppers were awesome to work with. Cody, JP, and Matt had great ideas and worked collaboratively as if they'd been doing it for years—as if they were Open Design patrons, even. One of my favorite things about the event was that, even though we each came from different backgrounds and had different games we primarily played, we showed that creativity, collaboration, and good ideas are not the domain of any one particular edition, system, or play style.
I hope you enjoy our creation, and I hope at least one PC dies and the others soil themselves. And GMs… giggle when it happens. Do it for us.
___
A wad of grasping arms and tangling legs from dozens of different creatures drags itself through the sand, driven only by the need to feed.
A thankfully rare threat in warm and vast deserts, desiccating stalkers thirst for vital fluids and soft tissue, driven only by hunger. Despite being mindless, they prove formidable hunters, lying in wait just beneath the desert's blistering sands for any sign of movement above. When it senses prey, a desiccating stalker erupts from the ground and grapples its victim with a host of mismatched arms and appendages.
Desiccating Stalker (CR 9) for Pathfinder Roleplaying Game
XP 6,400
N Large ooze
Init +1; Senses tremorsense 30 ft.; Perception −2
DEFENSE
AC 18, touch 10, flat-footed 17 (+1 Dex, +8 natural, −1 size)
hp 114 (12d8+60)
Fort +9, Ref +5, Will +2
Immune ooze traits
OFFENSE
Speed 30 ft., burrow 20 ft.
Melee slam +13 (1d8+5 plus grab)
Space 10 ft.; Reach 10 ft.
Special Attacks constrict (1d8+5), siphon vitals
STATISTICS
Str 21, Dex 12, Con 20, Int —, Wis 6, Cha 3
Base Atk +9; CMB +15 (+19 grapple); CMD 26 (can't be tripped)
ECOLOGY
Environment warm deserts
Organization solitary
Treasure none
SPECIAL ABILITIES
Siphon Vitals (Ex) A desiccating stalker digests its meals through contact with its gelatinous mass, nestled deep between its grasping limbs. When a desiccating stalker has a grappled opponent in an adjacent square, it can pull it close and begin dissolving and weakening the victim. Each round, the victim suffers 1d3 Str damage and 1d3 Con damage (Fortitude DC 21; Constitution-based).
Desiccating Stalker (Level 9 Solo Brute) for 4th Edition
Large aberrant beast (blind, ooze); XP 2,000
Initiative +5; Perception +2, tremorsense 10
HP 424; Bloodied 212
AC 21, Fortitude 22, Reflex 21, Will 20
Speed 6, burrow 4
Resist 5 poison, 5 disease
Saving Throws +5; Action Points 2
TRAITS
Appendage Swarm
The stalker takes half damage from melee and ranged attacks.
Engulfed (acid)
Creatures engulfed by siphon vitals suffer 3d10+6 acid damage.
STANDARD ACTIONS
[M] Double Slam • At-Will
Attack—Melee 2 (one or two creatures); +12 vs. AC.
Hit—3d10+9 damage, and the target is grabbed and pulled 1 square. A maximum of four creatures can be grabbed at a time.
MINOR ACTIONS
[M] Siphon Vitals • At-Will
Attack—Melee 1 (one grabbed creature); +12 vs. Fortitude.
Hit—Target is weakened (save ends).
First Failed Saving Throw—Target is helpless (save ends).
Second Failed Saving Throw—Target is helpless and engulfed.
TRIGGERED ACTIONS
[M] Constrict • At-Will
Trigger—The stalker grabs a creature.
Attack (Free Action)—Melee 2 (one creature); +10 vs. Fortitude.
Hit—1d8+5 damage.
Sustain Minor—1d8+5 damage on one creature at a time.
Skills Stealth +10
Str 24 (+11)         Dex 12 (+5)         Wis 6 (+2)
Con 26 (+12)       Int 0 (−1)              Cha 3 (+0)
Alignment unaligned     Languages —
Ecology
Straddling the line between an undead creature and an ooze, the desiccating stalker is indeed unique. While its most frightful characteristic remains the multitude of appendages of its consumed victims, desiccating stalkers are not animated dead. The limbs incorporated into its bulk protect a rubbery, slimy core mass that is the creature's true body. As the creature feeds, it draws in its victims centered on the torso and abdomen, so only legs and arms protrude. Because they utilize the appendages of their victims, the creatures are commonly confused with undead.
As a desiccating stalker feeds, it absorbs moisture and grows larger with every ingested body. When the creature grows large enough to reach a new size category, the desiccating stalker instead splits into two smaller specimens of Medium size. These new stalkers can be represented using the young creature simple template.
The true origin of these creatures is unknown; however, one theory proposes the desiccating stalker began as an alien wasting disease that withered its host and dissolved its vital organs into goo. This goo became ambulatory, slithering to safety away from the burning sun in search of life-giving moisture and the creatures that carry moisture in their juicy bodies.
Desiccating stalkers are round to oblong in shape and stretch over 8 ft. across. Dense with moisture, they weigh 700–900 lb. The scent of rotten flesh and pungent water follows them where they hunt.
Habitat and Society
Desiccating stalkers live in warm deserts and spend most of their time just under the surface to protect themselves from the heat and to prevent moisture loss. These strange creatures sometimes hunt along trade routes and haunt oases, but as vital as an oasis is to desert survival, most desiccating stalkers find themselves at the tip of a protector's scimitar.
It is rare to find more than one desiccating stalker in the same area at the same time unless the creature recently split.
(Pathfinder Roleplaying Game Compatible)
___
Find more of Ashton's art in Paper Miniatures for Tales of the Old Margreve.